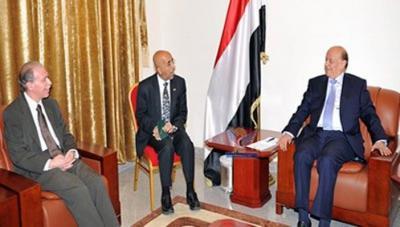 VP receives the US ambassador to Yemen
Almotamar.net - Sana'a-Yemeni Vice President Abed Rabou Mansour Hadi received in Sana'a Tuesday the American ambassador to Yemen Gerald Feierstein. The meeting discussed issues related to recent developments in the Yemeni arena in their different political, security and economic aspects and how the current crisis impacts on them.

Both men have also discussed meetings, consultations and efforts aimed to delivering Yemen from this dangerous impasse, which continuously threatens all components of normal life and security.

Hadi pointed out what is going on of negative developments, not in interest of anyone, whether the authority or the opposition, as much as they concern gains of the homeland and threaten the homeland's gains and threaten the life and living of the people. Thus all are responsible completely for those developments.

The Vice President affirmed the steady efforts for the secure and democratic coming out of the situation, adding that long distance has been achieved on the road of implementing the Gulf initiative and understanding about the chronic mechanism of it in the way with which to be able to preserve the democratic pursuit in a sound way.

The Vice President expressed, in this regard, his appreciation of the United States of America's help for preserving the democratic approach as it is considered the sole way for the social renascence and effecting the change towards all forms of development.

Regarding the war on terror and combating it, the Vice President emphasized that the decisive e confrontation against this terrorist organization by the armed forces have achieved great results and victories on the way of final riddance of terror. , pointing out that their gathering from various Arab and Islamic countries is a rare opportunity for cooperation for destroying the organization.

For his part, the American ambassador expressed big appreciation of the efforts exerted by the Vice President Hadi for the sake of moving the crisis and Yemen's safe coming out of it. He pointed out that Washington and the international community view that coming out of the crisis is political one. He pointed out the significance of joining all efforts for speeding up and coming out of this difficult and complicated situation.


---

Ashton condemns defense ministry attack
EU High Representative Catherine Ashton strongly condemned on Friday the attack on the Defense Ministry and hospital that occurred Thursday morning, causing numerous deaths and injuries.


GPC Condemns the Terrorist Attack in al-Ordi
General people Congress (GPC) condemned the terrorist attack that targeted the Ministry of Defense hospital and led to the deaths of dozens of martyrs and wounded, including foreigners.


The President receives UK ambassador on expiry of his term of office
Yemen President Ali Abdullah Saleh received in Sana'a Wednesday the British ambassador to Yemen Tim Torlot on the occasion of the expiry of his term of office in Yemen. During the meeting there was discussion on bilateral relations and areas of cooperation between the two countries.