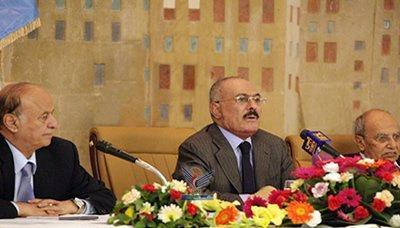 The President criticizes the JMP non-cooperation with the VP
Almotamar.net - Sana'a- President Ali Abdullah Saleh has on Wednesday welcomed beforehand supposed issuance of a statement by the UN Security Council concerning the political crisis in Yemen. The President has also accused the extremist forces and the for4ces violating the constitutional legitimacy inside the Joint Meeting Parties (JMP) and their partners of creating events of violence and clashes and using the youth as human shields for heavily armed demonstrations and causing killed and wounded persons, believing that by that they could get political gains and obtain resolutions.

President Saleh has emphasized that the solution of Yemen problems would not come from abroad but rather from inside, accusing the extremists and those violating the law and order and the constitutional legitimacy of procrastination in the talks for a political solution and sitting together at dialogue table.

In his address during presiding over a meeting of the extraordinary meeting of the main Standing Committee of the General People's Congress (GPC) in Sana'a on Wednesday, the President expressed anew his readiness to sign the GCC initiative, demanding offering Gulf, European and American guarantees for implementing the Gulf initiative on the ground.

President Saleh has also criticized the parties of the JMP of their non-cooperation with his Vice President Abed Rabu Mansour Hadi during 112 days the President spent in the Kingdom of Saudi Arabia for treatment following the terrorist attack on the Mosque of the Presidency House on 3 June 2011. He criticized them of revenge acts, attacking electric power lines in Mareb and attacking and robbing military camps in Nahm, Ibn Ghailan and Arhab as well as attacking the security in Taiz and urging for occupying the Presidential Palace in Taiz and the government complex and the fall of Abyan province, pointing out to documents exposing their cooperation and coordination with al-Qaeda organization for the fall of Zanjibar city in the hands of al-Qaeda organization.

---

Saudi aggression continues bombing several governorates
The Saudi aggression continued on Sunday to launch airstrikes on several governorates in the country.
A security source said Saudi war jets launched a number of raids on different parts of Hajjah governorate, destroying the building of the Roads and Bridges Authority in Haradh town in addition to many air raids carried out by drones in the town.
The Saudi warplanes also launched many raids on al-Hamara area of Lahj governorate, which led to numerous fatalities, including women and children. More than 16 sorties were carried out against areas of Muthalath al-Anad, al-Anad Air Base, Abain and Karesh, the source said.
In Dhamar governorate, the Saudi warplanes launched an airstrike targeted the Yemeni Economic Corporation building in Ma'abar city.


UN: Yemeni IDPs number doubled
The United Nations has announced that the number of Yemeni internally displaced persons (IDPs) due the military aggression had doubled in less than two weeks.
In a statement issued on Wednesday, the United Nations Office for the Coordination of Humanitarian Affairs (OCHA) said that the number of Yemeni IDPs had increased twice in 19 governorates since 17 April 2015 when 150 thousand Yemeni IDPs were registered.
It warned of the gravity of situations in Yemen because of the aggression.
The statement pointed out that the big number of IDPs are from the northern Hajjah governorate, in addition to southern Al-Dhalea and Abyan governorates.


AI calls for probing into Yemen's civilian deaths by Saudi-led airstrikes
Amnesty International has called for investigating the killing of hundreds of civilians, including scores of children, by the Saudi Arabian-led airstrikes across Yemen.
"The month-long campaign of air strikes carried out by Saudi Arabia and its allies has transformed many parts of Yemen into a dangerous place for civilians," said Said Boumedouha, Deputy Director of Amnesty International's Middle East and North Africa Programme.
"Millions of people have been forced to live in a state of utter terror, afraid of being killed at home. Many feel they are left with no choice but to move away from their destroyed villages to an uncertain future."
The UN has stated that more than 550 civilians have been killed including more than 100 children since the military campaign began on 25 March.
Amnesty International said it has documented eight strikes in five densely populated areas, which are Sa'ada, Sana'a, Hodeida, Hajjah and Ibb, noting that several of these strikes raised concerns about compliance with the rules of international humanitarian law.
According its research, Amnesty International said at least 139 people, including at least 97 civilians, 33 of whom were children were killed during the strikes, and 460 individuals were injured, at least 157 whom are civilians.


OIC appeals to support Yemen with medical aid
The Organization of Islamic Cooperation (OIC) has appealed member states and civil society organizations (CSOs) to provide humanitarian aid to the Yemeni people, especially medical supplies to cope with the big number of injured as a result of the military aggression.
The Secretary General of the OIC Iyad Madani said, in a statement issued Monday, that the OIC is holding consultations with several civil society organizations that have consultative status in the organization to provide food and medical and humanitarian assistance to the Yemeni people.


Pakistan calls on resolving Yemen's crisis through dialogue
Pakistani Prime Minister Nawaz Sharif has renewed his country's desire to resolve Yemen's crisis in Yemen through talks, revealing that his government urges Iran to play a role in bringing various Yemeni parties to the dialogue.
In his statement issued Monday, Sharif said that his country wants to resolve Yemen crisis through talks.
He added that Islamabad urged Tehran to play a role to bring conflicting parties in Yemen to the dialogue table, the official news agency of Pakistan quoted the Prime Minister as saying in a statement.


Yemen: Zeid calls for investigations into civilian casualties
UN High Commissioner for Human Rights Zeid Ra'ad Al Hussein on Tuesday reminded all sides to the conflict in Yemen to ensure that attacks resulting in civilian casualties are promptly investigated and that international human rights and international humanitarian law are scrupulously respected during the conduct of hostilities in the country.
In addition to hundreds of fighters, at least 364 civilians are reported to have lost their lives since March 26, including at least 84 children and 25 women. Another 681 civilians – possibly more – have been injured. Dozens of public buildings, including hospitals, schools, airports and mosques have been destroyed in airstrikes, through shelling and other attacks.


Ban Ki-Moon Urges Return To Political Talks In Yemen
The UN secretary-general has said that two weeks of Saudi-led air strikes against Yemen, "have turned an internal political crisis into a violent conflict that risks deep and long-lasting regional repercussions".
Ban Ki-moon on Thursday told reporters that he was urging all countries in the region to go beyond national priorities and help the Yemeni people, saying "the last thing the region and our world need is more of the chaos and crimes we have seen in Libya and Syria".


Pakistan's Parliament Rejects Joining Saudi Coalition In Yemen
ISLAMABAD: On day five of the joint parliamentary session on Yemen, lawmakers approved a draft resolution proposing that Pakistan "should maintain neutrality in the conflict so as to be able to play a proactive diplomatic role to end the crisis".
It further said that the crisis in Yemen could "plunge the region into turmoil", calling upon the warring factions in Yemen to resolve their differences "peacefully and through dialogue".
The resolution noted that while the war in Yemen was not sectarian in nature, it had the potential of turning into a sectarian conflict and thereby having a critical fallout in the region, including within Pakistan.