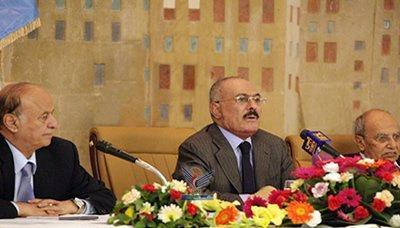 The President criticizes the JMP non-cooperation with the VP
Almotamar.net - Sana'a- President Ali Abdullah Saleh has on Wednesday welcomed beforehand supposed issuance of a statement by the UN Security Council concerning the political crisis in Yemen. The President has also accused the extremist forces and the for4ces violating the constitutional legitimacy inside the Joint Meeting Parties (JMP) and their partners of creating events of violence and clashes and using the youth as human shields for heavily armed demonstrations and causing killed and wounded persons, believing that by that they could get political gains and obtain resolutions.

President Saleh has emphasized that the solution of Yemen problems would not come from abroad but rather from inside, accusing the extremists and those violating the law and order and the constitutional legitimacy of procrastination in the talks for a political solution and sitting together at dialogue table.

In his address during presiding over a meeting of the extraordinary meeting of the main Standing Committee of the General People's Congress (GPC) in Sana'a on Wednesday, the President expressed anew his readiness to sign the GCC initiative, demanding offering Gulf, European and American guarantees for implementing the Gulf initiative on the ground.

President Saleh has also criticized the parties of the JMP of their non-cooperation with his Vice President Abed Rabu Mansour Hadi during 112 days the President spent in the Kingdom of Saudi Arabia for treatment following the terrorist attack on the Mosque of the Presidency House on 3 June 2011. He criticized them of revenge acts, attacking electric power lines in Mareb and attacking and robbing military camps in Nahm, Ibn Ghailan and Arhab as well as attacking the security in Taiz and urging for occupying the Presidential Palace in Taiz and the government complex and the fall of Abyan province, pointing out to documents exposing their cooperation and coordination with al-Qaeda organization for the fall of Zanjibar city in the hands of al-Qaeda organization.

---

Dozens of mercenaries killed in Nehm
The army and popular forces killed and wounded dozens of Saudi-paid mercenaries when the national forces launched an attack and stormed in Nehm area of Marib province, a military official said on Wednesday


Aggression airstrikes kill, injure 20 in Taiz
At least 20 civilians were killed or injured on Tuesday in the US-Saudi aggression airstrikes on Mawza'a district in Taiz province.
The Saudi aggression warplanes targeted the internally displaced persons' houses in the district with three raids, killing and injuring 20 in an initial toll, a local official said .


Army repulses infiltration of mercenaries in Taiz
The army and popular forces repulsed an attempt of Saudi-paid mercenaries to infiltrate toward Mokha district of Taiz province, a military official said on Tuesday,
Dozens of the mercenaries were killed and wounded, as well as six UAE military vehicles were bombed in a Khalid camp during the operation.