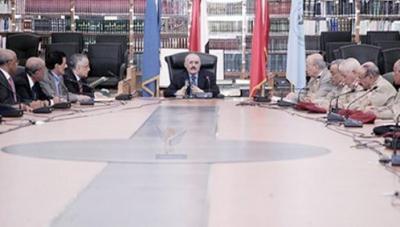 Saleh presides over security and military meeting
Almotamar.net, Saba - Sana'a- President Ali Abdullah Saleh chaired Sunday a joint meeting of the security and military leaders.

In the presence of Vice President Abdo Rabbo Mansour Hadi, the meeting reviewed the progress of the combat and operational training plans and programs for 2011 in the different armed and security units and the evaluation of the performance and implementation for the last period.

The outcomes of the last meeting's decisions held last week were touched on in the meeting, which listened to a report of Defense Ministry on the armed forces' conditions and requirements and a report of Interior Ministry on the security situation in the capital Sana'a and other governorates in the light of the current national developments and the aggressions committed by affiliates of the Joint Meeting Parties (JMP) and insurgents.

The meeting also dealt with another reports on the country's economic situation that is escalating every day owing to the outlaws' acts, including blocking roads and attacking on the oil, gas and electricity facilities.

Moreover, the political developments in the country were reviewed in the meeting and the exerted efforts to put an end to the ongoing political crisis in the country based on the Gulf's initiative.

The meeting made several decisions and recommendations to the competent bodies to adopt the necessary measures to alleviate the citizens' suffering and provide their requisite needs.



---

Sudan congratulates Yemen National Salvation Government
The Sudan's community in Yemen congratulated the formation of the Yemeni new National Salvation Government.
"On behalf of the Sudanese community and all the freemen of the Sudanese people who are anti-Saudi aggression on the brotherly Yemeni people, we congratulate the formation of the Yemeni new National Salvation Government," the Sudanese


SPC deplores negative reactions towards forming national salvation government
The Supreme Political Council strongly deplored some negative reactions made towards the formation of the National Salvation Government, saying the formation of the new government came in response to the will of the Yemeni people in the face of the Saudi aggression that targets the Yemeni people, their land and destroys all Yemeni resources


National salvation government convenes first meeting after sworn-in
Prime Minister Abdulaziz bin Habtour convened the first meeting of the newly-formed national salvation government here in the capital Sanaa to assume responsibilities.
The meeting was held on Tuesday after the new cabinet was sworn in before president of the Supreme Political Council, Saleh al-Sammad.


Leader Ali Abdullah Saleh congratulates nation on Independence Day
Former President of the Republic of Yemen, president of the General People's Congress, strongman Ali Abdullah Saleh congratulated the Yemeni people on the occasion of the 49th anniversary of the independence day, when Yemen got freedom from Britain in 30th November 1967, calling the nation to move forward for more and more victories.
Saleh's congratulation came in a speech to the nation late on Tuesday on the eve of the independence day.