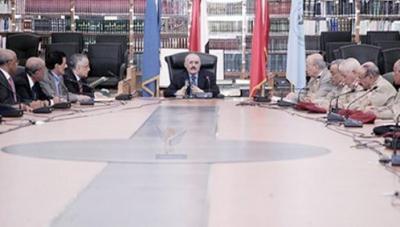 Saleh presides over security and military meeting
Almotamar.net, Saba - Sana'a- President Ali Abdullah Saleh chaired Sunday a joint meeting of the security and military leaders.

In the presence of Vice President Abdo Rabbo Mansour Hadi, the meeting reviewed the progress of the combat and operational training plans and programs for 2011 in the different armed and security units and the evaluation of the performance and implementation for the last period.

The outcomes of the last meeting's decisions held last week were touched on in the meeting, which listened to a report of Defense Ministry on the armed forces' conditions and requirements and a report of Interior Ministry on the security situation in the capital Sana'a and other governorates in the light of the current national developments and the aggressions committed by affiliates of the Joint Meeting Parties (JMP) and insurgents.

The meeting also dealt with another reports on the country's economic situation that is escalating every day owing to the outlaws' acts, including blocking roads and attacking on the oil, gas and electricity facilities.

Moreover, the political developments in the country were reviewed in the meeting and the exerted efforts to put an end to the ongoing political crisis in the country based on the Gulf's initiative.

The meeting made several decisions and recommendations to the competent bodies to adopt the necessary measures to alleviate the citizens' suffering and provide their requisite needs.



---

Prime Minister, ICRC discuss humanitarian cooperation
Prime Minister Abdulaziz Saleh bin Habtoor met with visiting director of operations for the International Committee of the Red Cross (ICRC) Dominik Stillhart.
The meeting discussed aspects of enhancing cooperation between Yemen and the ICRC in the humanitarian field and developing mechanisms for joint action to alleviate the repercussions of aggression war states and siege against the public health, water and environment sectors.
The meeting reviewing the growing role of the ICRC in


FM meets ICRC director of operations
Foreign Minister Hisham Sharaf met with Dominik Stillhart, Director of Operations for the International Committee of the Red Cross (ICRC).
The meeting dealt with efforts by the ICRC, reviewing violations carried out by the aggression states of Saudi and Emirates against the Yemeni people. It also discussed the file of war prisoners held by the aggression states and the blatant violations against them that openly breach the international laws and conventions.


Saudi warplanes continue strikes in different provinces
Saudi fighter jets continued fierce strikes on citizens' houses and properties over the past hours in several provinces, a military official said on Tuesday.
The Saudi-paid mercenaries shot bullets on a child in Al Maton district of Jawf province, wounding the child seriously, while the mercenaries also fired Katyusha missiles on the house of citizens in Serwah district of Marib province.