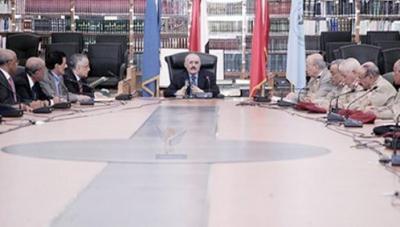 Saleh presides over security and military meeting
Almotamar.net, Saba - Sana'a- President Ali Abdullah Saleh chaired Sunday a joint meeting of the security and military leaders.

In the presence of Vice President Abdo Rabbo Mansour Hadi, the meeting reviewed the progress of the combat and operational training plans and programs for 2011 in the different armed and security units and the evaluation of the performance and implementation for the last period.

The outcomes of the last meeting's decisions held last week were touched on in the meeting, which listened to a report of Defense Ministry on the armed forces' conditions and requirements and a report of Interior Ministry on the security situation in the capital Sana'a and other governorates in the light of the current national developments and the aggressions committed by affiliates of the Joint Meeting Parties (JMP) and insurgents.

The meeting also dealt with another reports on the country's economic situation that is escalating every day owing to the outlaws' acts, including blocking roads and attacking on the oil, gas and electricity facilities.

Moreover, the political developments in the country were reviewed in the meeting and the exerted efforts to put an end to the ongoing political crisis in the country based on the Gulf's initiative.

The meeting made several decisions and recommendations to the competent bodies to adopt the necessary measures to alleviate the citizens' suffering and provide their requisite needs.



---

Police, popular forces arrest 81 suspects
A total of 81 persons have been arrested on charges of various crimes in several governorates over the past two days, a police official said on Monday.
The official said that 58 of the accused were arrested for serious crimes, while 23 charged with petty crimes, and 19 others have been referred to the public


Saudi warplanes targets home in Bani Hashish
A Saudi aggression warplane destroyed a citizen's home in Bani Hashish district of Sanaa province in an air strike overnight, an official said on Monday.
The strike flattened the home and badly damaged the nearby houses.
The Saudi aggression fighter jets also waged other raids on al-Jmima Mount, caused huge damage to public property and telecommunications towers, said the official.


President calls UN to end Saudi barbaric aggression, blockade on Yemen
President Saleh al-Sammad called the United Nations security council to stop Saudi-led barbaric aggression and blockade on Yemen, in a letter sent to the UN late on Saturday.
In the letter, the president detailed brutal and inhumane crimes committed by the Saudi-led barbaric coalition during 18 months of aggression against the