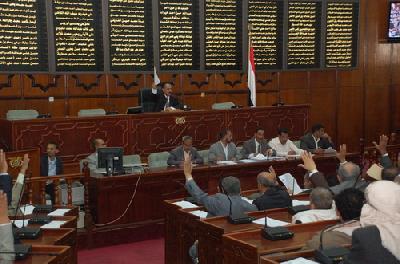 Parliament endorses immunity law
Almotamar.net - The parliament endorsed on Saturday a law granting president Ali Abdullah Saleh total immunity from legal and judicial prosecution.

This law also applies to the civil, military, and security officials, who were involved with the president in operations based on political motives rather than terrorist acts.

In addition, the parliament endorsed the recommendation for Vice President Abdo Rabbo Mansour Hadi to be the consensual and sole candidate for the early presidential elections to be held on 21 February.

The adopted law was voted on in the presence of the government and all members of the parliament.


Saba


---

A statement of GPC official source
Congress (GPC) and its allies are still asking for the the outputs of the national dialogue conference that agreed upon the agreement of peace and partnership and the importance of a quick working on the implementation of the four points in the speech of Mr. AbdulMalik Badr al-Din al-Houthi yesterday. He added that the points have been agreed upon in the peace agreement and partnership that signed by all parties in order to take out of the Yemen political tension and to avoid violence and bloodshed


AL, Egypt call conflicted parties to reject violence
The Arab League called on Tuesday all the political parties to immediately stop and reject all forms of violence.
Deputy Secretary General of the Arab League Ahmad bin Hali said in a press statement the secretariat is following up with great interest the developments in Yemen, and carrying out calls in order to assist containing the crisis.
He also urged all parties to support efforts exerted by President Abdo Rabbu Mansour Hadi in accordance with the Peace and Partnership Agreement that based on the National Dialogue Conference (NDC)'s outputs in order to ensure Yemen's security and stability.
From another hand, the Egyptian Ministry of Foreign Affairs appealed the political components to hold their responsibilities in contributing to achieve stability and peace in the country


Ceasefire announced in Sana'a
Interior Minister Jalal al-Rowaishan affirmed on Monday a ceasefire came into force between ' Ansar Allah ' and Presidential Security Brigades in Sana'a as of 4:30 p.m.
The decision was made by a Presidential Committee includes the Defense and Interior Ministers, Special Security Forces Commander and President adviser Saleh al-Sammad.


Detained fishermen in Sudan return home
The five detained fishermen by the Sudanese government returned home on Saturday after being seized for four months because of entering Sudan's territorial waters without prior permission.
The fishermen expressed their appreciation to the efforts of the Yemeni government and ambassador in Khartoum for releasing and returning them home.


South Africa denounces Police Academy bombing attack
The South African government has strongly condemned the terrorist attack that took place in the Police Academy in Sana'a on Wednesday, the 7th of January, resulted in killing dozens of would-be cadets.
The Department of International Relations and Cooperation (DIRCO) of South Africa called in its statement all Yemenis and the international community to work together in order to combat terrorism and restore stability in Yemen.


WFP offers $ 87 mln to support education in Yemen
Minister of Education Dr. Haidar Abdullatif and acting resident representative of the World Food Programme (WFP) in Sana'a Ruqyah Yaqoob signed Wednesday a $ 87 million agreement for the education support project.
The project targets 275 thousands students in its first year by giving light meals to 160 thousands students during the school day in the poorest areas and providing food aid for 115 thousands school girls within the ministry's effort to support the girl education, the minister Haidar explained.


PM forms committee to solve Mareb, Jawf issues
Prime Minister Khaled Bahah issued on Monday a Resolution No. (2) for the year 2015 forming a committee tasked with solving Mareb and Jawf issues.
The committee is chaired by the Minister of Defense and with the membership of Minister of Interior, Minister of Local Administration and Head of Defense and Security Department in the Presidential Office.