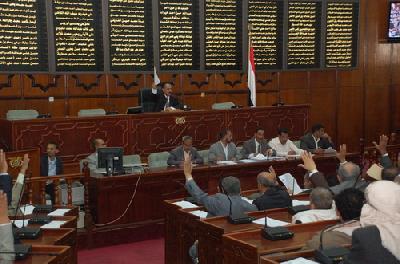 Parliament endorses immunity law
Almotamar.net - The parliament endorsed on Saturday a law granting president Ali Abdullah Saleh total immunity from legal and judicial prosecution.

This law also applies to the civil, military, and security officials, who were involved with the president in operations based on political motives rather than terrorist acts.

In addition, the parliament endorsed the recommendation for Vice President Abdo Rabbo Mansour Hadi to be the consensual and sole candidate for the early presidential elections to be held on 21 February.

The adopted law was voted on in the presence of the government and all members of the parliament.


Saba


---

FM meets Chargé d'affaires of UK , KSA embassies
Foreign Minister Dr. Abu Bakr al-Qirbi met on Tuesday with Chargé d'affaire of the British embassy, Alison Kemp, and Chargé d'affaire of the Saudi embassy in Yemen , Dr. Hazza'a Al-Mutairi.
During the meeting, they discussed the underway final preparations for the 7th ministerial meeting of Friends of Yemen Group in London on April 29.
They also dealt with the current proposals to make the mechanism of the Group meetings


4 , 15-year jail sentence for 2 defendants in Qatn's murder case
The Court of First Instance in Sana'a sentenced on Tuesday two defendants to 4 and 15 years in Jail in the assassination case of the former commander of the military southern command, Brigadier Salem Qatn.
The defendant Sami Fadl Daian was sentenced to 15 year in jail for being convicted of infringing on the state's security ,military and civilian institutions and their personnel in cooperation with the al-Qaeda and individually.


Yemeni-GCC joint technical committee meetings concludes
The Yemeni-GCC joint technical committee to determine Yemen's developmental needs concluded on Tuesday its meetings at the GCC's headquarters in the Saudi capital, Riyadh.
During the two-day meetings, the committee discussed several topics related to the assistances provided by the GCC States for Yemen in the development field, as well as the implementation progress of GCC States-funded projects.
The latest developments concerning the work of the Executive Bureau to accelerate absorption of donors' pledges and the underway preparations for imminent meeting of the Friends of Yemen group


President Hadi inspects work progress in SCER
President Abdu Rabbu Mansour Hadi paid on Sunday a visit to Supreme Commission For Elections & Referendum, SCER, where he was received by the Head of commission, Judge Mohammed Hussein al-Hakemi.
Hadi during the visit has got acquainted with the nature of modern preparations to achieve the new electoral roll based on a national number and in accordance with the technical systems.


Hadi meets with Sheikhs and dignitaries of Shabwa governorate
President Abdu Rabbu Mansour Hadi met on Sunday with a number of Sheikhs, figures, and dignitaries of Shabwa governorate headed by Sheikh Awad al-Wazeer.
After he welcoming them, he reviewed with the nature of the current stage and the importance of working together in order to move the country out of its crisis.


Air strike kills militants of al-Qaeda in training camps
An air strike targeted al-Qaeda training camps killed a number of militants, some are of different nationalities, the Supreme Security Committee said on Sunday.
The targeted training camps were in a remote mountainous region between Abyan and Shabwa provinces, an official at the committee said, adding that the militants targeted were among the leading and dangerous elements of al-Qaeda


Republican decrees
The republican decree No. 64 for 2014 was issued assigning Judge Abdullah Abdullah al-Moghlas as an office director of the head of the Supreme Commission for Elections and Referendum, SCER.
The Presidential decree No. 29 for 2014 was issued appointing Sultan