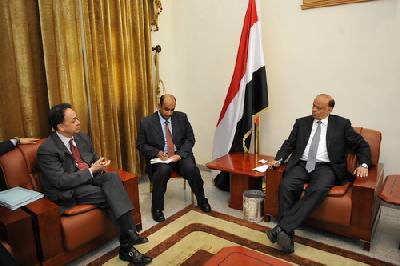 EU to assist Yemen to achieve democratic transition of power
Almotamar.net - Managing Director for the Middle East and Southern Neighborhood at the European External Action Service said Wednesday that the European Union (EU) would stand by with Yemen to reach the day of the upcoming presidential election.

During his meeting with Vice President Abdo Rabbo Mansour Hadi, Hugues Mingarelli indicated to the various challenges would encounter Yemen, saying "The EU will fully assist Yemen to achieve the peaceful and democratic transition of power and overcome the challenges".

He called on Yemen friends group to hold the conference planed to help Yemen as soon as possible to end the crisis's negative effects and to provide the needed economic and development aid to Yemen.

Hadi acquainted the EU official with the great challenges Yemen faces since the political crisis's outbreak early in 2011 and the achieved actions under the Gulf initiative.

The Vice President valued highly the EU's considerable support to Yemen during the crisis, hoping that such support to be continued until realizing the desired purposes.

saba
---

Saudi aggression's warplanes launches 7 raids on capital
Saudi aggression's warplanes waged seven raids against the capital Sana'a early on Sunday, an official said.
The strikes targeted Sarif area east of al-Rawda city, on the road linking the capital with neighboring province of Mareb, causing large damage to citizens' houses and farms, the official added.


Saudi aggression airstrikes kill 10 people in Ibb
Ten people were killed and nine injured in early Sunday morning Saudi aggression airstrikes on residential quarter in downtown Ibb city, an official said.
The hostile warplanes targeted residential buildings in Dar al-Sharf area of Mafrak Jibla neighborhood, he said.
The Saudi aggression also waged two raids on Bin Laden tourist complex few miles away city in central the city, said the official, adding that three other air raids hit Kah area in al-Sabrah district of Ibb province.


Saudi raid injures 16 people in Sa'ada
At least 16 people were injured on Saturday in a Saudi air raid on Magz district of Sa'ada province, a security official said.
The Saudi-led aggression targeted al-Gerbah bridge in the district, the official added.
Before two days, the Sauid warplanes targeted the bridge with two raids causing a cut off the road for some areas.


Saudi warplanes launches 12 raids on Radaa
Saudi aggression warplanes waged 12 air raids on
Radaa city and surroundings regions of Baidha province late on Friday ,a military official said.
The raids destroyed communication grid in Ihraam mount in the city.
The official added the fighter jets continued intensely flying over the sky of the city and broke the sound barrier.