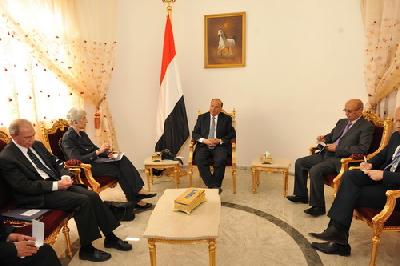 Yemen's security is strategic matter to US: official says
Almotamar.net-saba - An American official voiced Wednesday confidence that February 21 would be a real moving towards comprehensive reforms and make the necessary changes the Yemeni people desires.

The statement made by US Under Secretary of State for Political Affairs Wendy Sherman, the US envoy to Yemen, who arrived in Sana'a today [Wednesday] on an official visit to show the US support for Yemen.

During her meeting with Vice President Abdo Rabbo Mansour Hadi, Ms. Sherman expressed the US and the international community's appreciation of the Vice President and political powers' efforts to carry out the Gulf initiative.

The US would be an effective partner with Yemen to overcome the crisis's aftermaths, she said, stressing that Yemen's security and unity are a strategic matter to the US.

The Vice President briefed the US official on the crisis's consequences in security, political and economic fields and its critical impacts on the stability and unity of the country.

He praised the American direct support to Yemen in this regard, pointing to the efforts of the US ambassador Gerald Feierstein, alongside with ambassadors of the UN Security Council permanent members, European Union and Gulf Cooperation Council, to save Yemen from separation and a civil war was about to be broken out.

Hadi and Ms. Sherman touched on several issues concerning the fight on terror, especially al-Qaeda, and the developments in Rad'a city which has been cleansed from terrorists
---

Two terrorists killed in Abyan
Two terrorists were killed in a foiled attack on a military site belonging to the 115th Infantry Brigade in Khanfar district of Abyan province, a military source said Monday.
A number of the attackers were injured during repelling the attack and the rest escaped, leaving their weapons, the source added.


Parliament emergency session postponed
The board of the House of Representatives (Parliament) has postponed the parliament's emergency meeting initially scheduled for Sunday.
The meeting was delayed until "another date to be set later," the house's board said.
It said the postponement aimed at allowing more time to "inform all members of the parliament to attend."


A statement of GPC official source
Congress (GPC) and its allies are still asking for the the outputs of the national dialogue conference that agreed upon the agreement of peace and partnership and the importance of a quick working on the implementation of the four points in the speech of Mr. AbdulMalik Badr al-Din al-Houthi yesterday. He added that the points have been agreed upon in the peace agreement and partnership that signed by all parties in order to take out of the Yemen political tension and to avoid violence and bloodshed


AL, Egypt call conflicted parties to reject violence
The Arab League called on Tuesday all the political parties to immediately stop and reject all forms of violence.
Deputy Secretary General of the Arab League Ahmad bin Hali said in a press statement the secretariat is following up with great interest the developments in Yemen, and carrying out calls in order to assist containing the crisis.
He also urged all parties to support efforts exerted by President Abdo Rabbu Mansour Hadi in accordance with the Peace and Partnership Agreement that based on the National Dialogue Conference (NDC)'s outputs in order to ensure Yemen's security and stability.
From another hand, the Egyptian Ministry of Foreign Affairs appealed the political components to hold their responsibilities in contributing to achieve stability and peace in the country


Ceasefire announced in Sana'a
Interior Minister Jalal al-Rowaishan affirmed on Monday a ceasefire came into force between ' Ansar Allah ' and Presidential Security Brigades in Sana'a as of 4:30 p.m.
The decision was made by a Presidential Committee includes the Defense and Interior Ministers, Special Security Forces Commander and President adviser Saleh al-Sammad.


Detained fishermen in Sudan return home
The five detained fishermen by the Sudanese government returned home on Saturday after being seized for four months because of entering Sudan's territorial waters without prior permission.
The fishermen expressed their appreciation to the efforts of the Yemeni government and ambassador in Khartoum for releasing and returning them home.