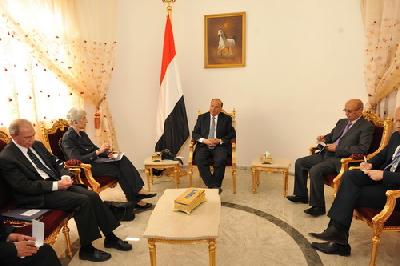 Yemen's security is strategic matter to US: official says
Almotamar.net-saba - An American official voiced Wednesday confidence that February 21 would be a real moving towards comprehensive reforms and make the necessary changes the Yemeni people desires.

The statement made by US Under Secretary of State for Political Affairs Wendy Sherman, the US envoy to Yemen, who arrived in Sana'a today [Wednesday] on an official visit to show the US support for Yemen.

During her meeting with Vice President Abdo Rabbo Mansour Hadi, Ms. Sherman expressed the US and the international community's appreciation of the Vice President and political powers' efforts to carry out the Gulf initiative.

The US would be an effective partner with Yemen to overcome the crisis's aftermaths, she said, stressing that Yemen's security and unity are a strategic matter to the US.

The Vice President briefed the US official on the crisis's consequences in security, political and economic fields and its critical impacts on the stability and unity of the country.

He praised the American direct support to Yemen in this regard, pointing to the efforts of the US ambassador Gerald Feierstein, alongside with ambassadors of the UN Security Council permanent members, European Union and Gulf Cooperation Council, to save Yemen from separation and a civil war was about to be broken out.

Hadi and Ms. Sherman touched on several issues concerning the fight on terror, especially al-Qaeda, and the developments in Rad'a city which has been cleansed from terrorists
---

President Hadi receives board members of Popular Alignment Body
President Abdu-Rabbu Mansour Hadi received on Wednesday board members of the Popular Alignment Body for the Protection of National Gains, led by Yehia Hussein al-Arashi, member of Shura Council.
During the meeting, Hadi talked about a number of issues Yemen has been experiencing since the eruption of 2011's crisis, saying that the country has overcome various challenges and difficulties until holding the National Dialogue Conference, noting also steps and measures taken to handle that crisis.


Three terrorists killed in Hadramout
Troops of the First Military Region raided on Wednesday a den of terrorists in al-Aqad area in Sayoun town of Hadramout province, killing three al-Qaeda terrorists and injuring others.
A military source in the First Military Region's command said that the clashes with the terrorists resulted in injuring of a soldiers.


Presidential committee in Saada
- The presidential national committee headed by Deputy Prime Minister Dr. Ahmed Obaid bin Daghr has continued its meetings in Saada province with the leadership of Ansar Allah Abdul-Malik al-Houthi.
The official spokesman of the presidential committee, Abdul-Malik al-Mikhlafi, said that the committee presented during the meetings a comprehensive agreement draft.
Al-Mikhlafi pointed out that the committee discussed with the leadership of Ansar Allah


Army raids terrorist cell in Hadramout
Military units of the second Military Region raided on Monday a villa in 60 street in Mukala, which was used as a den by a terrorist cell to carry out terrorist acts.
A military source at the Military Region command said on Tuesday that the military forces surrounded the villa after receiving the information about the existence of a terrorist cell and clashed with the terrorists.


IFJ demands Yemeni authorities to increase media protection
The International Federation of Journalists (IFJ) demanded on Monday Yemeni authorities to immediately increase protection for media workers in the country.
IFJ's renewed appeal is following an escalation in attacks over the last few days, including the murder of a senior journalist.
According to the Yemeni Journalists' Syndicate (YJS), Abdul-Rahman Hameed Aldin, who worked for Sana'a Radio, was shot in the head last Friday [15 August] by an armed group in the capital Sana'a. He was taken to hospital where he passed away the following day.


GPC Leader delivered a speech in front of the leaders of CSOs
GPC Leader, Ali Abdullah Saleh, expressed his thanks and appreciation for the brotherly feelings the leaders and representatives of civil society organizations who have expressed strong disapproval and condemnation of the criminal and terrorist attempt that targeted his life through the tunnel, which was dug to his home.