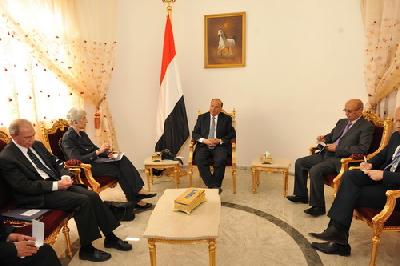 Yemen's security is strategic matter to US: official says
Almotamar.net-saba - An American official voiced Wednesday confidence that February 21 would be a real moving towards comprehensive reforms and make the necessary changes the Yemeni people desires.

The statement made by US Under Secretary of State for Political Affairs Wendy Sherman, the US envoy to Yemen, who arrived in Sana'a today [Wednesday] on an official visit to show the US support for Yemen.

During her meeting with Vice President Abdo Rabbo Mansour Hadi, Ms. Sherman expressed the US and the international community's appreciation of the Vice President and political powers' efforts to carry out the Gulf initiative.

The US would be an effective partner with Yemen to overcome the crisis's aftermaths, she said, stressing that Yemen's security and unity are a strategic matter to the US.

The Vice President briefed the US official on the crisis's consequences in security, political and economic fields and its critical impacts on the stability and unity of the country.

He praised the American direct support to Yemen in this regard, pointing to the efforts of the US ambassador Gerald Feierstein, alongside with ambassadors of the UN Security Council permanent members, European Union and Gulf Cooperation Council, to save Yemen from separation and a civil war was about to be broken out.

Hadi and Ms. Sherman touched on several issues concerning the fight on terror, especially al-Qaeda, and the developments in Rad'a city which has been cleansed from terrorists
---

President, UK ambassador review national developments
President Abd Rabbo Mansour Hadi reviewed on Wednesday with the United Kingdom ambassador to Yemen Jane Marriott the latest developments of the implementation of the national dialogue's outcomes.
During the meeting, the President praised the ambassador's efforts and the UK support for Yemen either bilaterally or within the five permanent members of the Security Council and the group of the ten countries sponsoring the implementation of the Gulf initiative.


GPC delegation meets Prime Minister of Djibouti
General People's Congress (GPC) delegation met Prime Minister of Djibouti, Abdualqader Kamel in their visit to the country. During the meeting, both sides discussed bilateral relations and ways of developing them as well as discussing a number of issues of common interest between the two countries.
The occasion of the GPC delegation visit was to attend the 35 Conference of the ruling Party in Djibouti, which took place during the period from 3 until 4 March.


Governor of Saada reviews ICRC's activities
Governor of Saada Fares Mana'a and Director of the International Committee of the Red Cross (ICRC) mission in Yemen on Tuesday discussed topics related to the mission's activities in Saada province.
Mana'a appreciated efforts of ICRC mission in Saada, particularly in providing medical and water services, affirming that all works of the mission will be facilitated


Seven soldiers killed in two attacks in Shabwa
Seven soldiers were killed and three were injured in two separate attacks in the eastern province of Shabwa on Monday, the Ministry of Defense said.
Unknown gunmen attacked a security patrol with a Rocket Propelled Grenade (RPG) killing four soldiers and wounding three others, the ministry added in a statement.


Statement Of GPC and its Allies on Security Council Resolution 2140
The General Congress Committee of the General People's Congress and the Higher Council of the National Democratic Coalition held an extraordinary meeting presided by Ali Abdullah Saleh , the president of the GPC ,during which they examined The Security Council Resolution 2140 on Yemen .
The General Congress Committee and the Coalition parties appreciated the resolution's reaffirmation of strong commitment to the unity , sovereignty , independence and territorial integrity of Yemen , its welcoming the outcomes of the comprehensive National Dialogue Conference which


Decree assigns
The republican decree No.(33) for 2014 was issued Sunday appointing Amer Saeed al-Za'uori as an assistant undersecretary for financial and administrative affairs at the Ministry of Transport. Decree assigns judges for Judicial Inspection Authority


Yemen to partake in 2nd World Islamic Conference in Makkah
Yemen is to partake in the 2nd World Islamic Conference to be held in Makkah in Saudi Arabi during March 2-4 under the slogan " the Islamic world.. problems and solutions".
Head of the Yemen delegation to the conference , Minister of Endoments and Gudidance Hamoud Obad said that the conference , which is organized by Secretary General of the Muslim World League, would focus in its discussions on the topic of Islamic solidarity in light of the international transformations and developments.