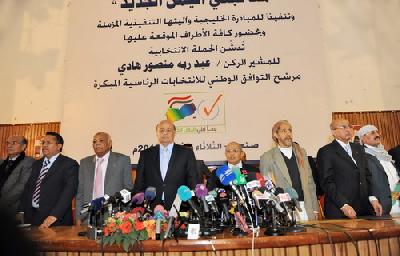 VP launches early presidential election campaign
Almotamar.net - Vice President Abdo Rabbo Mansour Hadi said Tuesday that the February 21 presidential election is the perfect solution to the political crisis that was about to be shifted to a civil war.

Hadi made the statement at the launching ceremony of the campaign for the early presidential election scheduled for February 21 with the participation of a number of members of Parliament and Shura councils, political party's leaders, senior military and security officers and foreign ambassadors to Yemen.

Hadi asserted that the goal of the ceremony is to send a message of hope to the Yemeni people that "the wheel of change has begun to spin".

"The Gulf initiative, we have agreed upon, has become a legitimate umbrella for all signed parties" he said, stressing that all signatories should keep commitment to implementing all its terms.

The Yemeni people's inability to endure much more of the crisis, the political partners' confidence of the necessity to end it, and the regional and international determination to help Yemen in this regard are the reasons that make me sure to overcome the days - might be difficult - prior to the election, the VP said, stressing that Yemen has exceeded the toughest stage.

"We are determined to overcome our plight through an open dialogue to restore the natural context of the crisis away from terrorism, extremism, corruption and tendencies of regionalism and racism", he said.

The coming change will be based on the national conference for dialogue, I will call for being convened after the presidential election.

Hadi affirmed that no one either inside or outside Yemen would be excluded from the dialogue and all issues would be on the dialogue table, including issues of southern, Sa'ada and youths' demands.

"We need to be strong and patient and with Allah's help we will move Yemen from the current situation to a new development stage and adopt a strategy for implementing reforms to take Yemen to the threshold of the 21st century", Hadi said.

Hadi called on the brotherly and friendly countries as well as ambassadors in Yemen to complete their noble task not only to hold the election successfully but also in the country's stability and development.


Saba


---

Court executes man for rape, murder girl
The court of Appeal and judicial authorities in the capital Sanaa on Monday executed Hussein Abdullah al- Saket after convicted him of raping and killing five-year-old girl Safa Mohamed Taher al-Matari.
The execution of the 22-year-old al-Saket was carried out in a public place in Tahrir Square in central Sanaa where thousands of people witnessed the scene


Saudi air strikes continues its criminal attack on Yemen
Saudi aggression warplanes continued criminal air strikes on several provinces, targeting public and private properties over the past hours, officials said on Monday.
The warplanes launched three raids on Dawar area in Mastaba directorate of Hajah provinces and four raids on Hardh and Medi directorates.


Civil Aviation denies Saudi lies, confirms Sanaa Airport is secure, safe
The General Authority for Civil Aviation and Meteorology denied false claims by the Saudi-led aggression coalition about the Sanaa international airport, in a statement.
It said the airport is safe, secure and completely prepared to receive incoming flights in according to the international aviation standards.