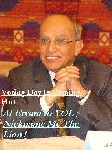 YemenOnline
- Dr. Abdulkarim Al-Eryani is one of the well-known politicians in Yemen and the region. Throughout his political life he assumed several senior posts in the government and his party He served as Minister of Foreign Affairs and then Prime Minister until 2001.
Currently, he is the Political Advisor to President of the Republic Ali Abdullah Saleh and the Second Deputy Leader of the ruling party, General People's Congress (GPC). Dr Al-Eryani is a man of great local, Arab and international reputation.
As the presidential and local councils elections' date on the 20th September 2006 is approaching, and to reveal some of the behind the scenes facts, YemenOnline finds it useful and appropriate to interview Dr. Al-Eryani and to delineate the political situation in Yemen in general and the democratic process as well as pinpoint some of the developments of the upcoming presidential and local councils elections.
Q. As a leading figure in the GPC, how do you view the upcoming presidential and local councils elections?
A. These elections constitute an important historic event in Yemen's democratic experience. The real competition for Yemen's presidency gives an ideal example as the first of its kind in Yemen and the region. The candidates are given equal opportunities to express themselves and their election platform freely in the Yemeni media. No restrictions are imposed on them and no change or deletion of their very words.
Significance of the presidential election stems from the fact that it is a race for leading the country while the local councils election witnesses a new stage and is more important than the previous one. Local councils elections are the second safety-valve of democracy in the country and the entire people are expected to take part in this process at the voting centers to elect more than 6,000 representatives for district and governorate local councils.
Yemen elections, whether presidential, parliamentary or local, help establish democracy to the greatest extent. So all candidates have to go to voters to brief them on their platforms and try to gain their support. I am sure that this event (presidential and local elections) will firmly establish democracy as a vital aspect of the Yemeni people's life. So no political party or force can manipulate this democratic event.
Q. What is your reply to the Joint Meeting Parties (JMP)'s claims of possible rigging of elections?
A. JMP leaders' talk is similar to the proverb of "Nickname me the Lion". They intend to say, "if we don't win, there are then election frauds, but this will never appeal to the mind of any reasonable human. How do they expect such frauds in elections with presence of very clear overseeing mechanisms used in each voting center? There are many ballot boxes and each candidate has a representative plus an observer to watch the polling process. After the electors finish casting their votes, the vote-counting will be conducted in the presence of representatives of candidates. Therefore, the committees are formed from different political parties to supervise the polling and vote-counting processes.
It is expected that there will be more than 20 thousand local and international observers in every constituency and they are to monitor the voting and vote counting processes. Vote counting will be carried out inside the polling centers and will not be moved o any other place candidates' representatives will be present during the vote-counting and to sign on the results statement. Thus, talk about election frauds means that JMP leaders foresee their points of weakness and failure.
Q. What importance will presence of international election observation teams add to Yemen's democratic experiment?
A. First of all, no Arab country holding elections has ever seen such large presence of international election observers. There are many election observation teams present in Yemen now, such as the European Union (EU) and National Democratic Institute (NDI), and each team will write its report independently and away from the other one.
NDI contributed with a large number of international election monitors, however this number is not like that of the EU, and it is expected that an election observation team is due to come from Washington. Each team has its own mechanism for the observation of the electoral process, assess it and write its report about it, and to my knowledge, there is no agreement between these teams to write their reports jointly. The presence of EU is unprecedented in any Arab country and I think that the reason is part of what you mentioned.
During their earlier visit to Yemen, EU guessed that there will be no real competition and that they might attend but not with such a high number. When EU teams realized recommendation of presidential candidates by Parliament and Al-Shoura Council, their numbers and the political parties that support them, I think that convinced them that this year's elections will be strongly competitive and the rarest of their kind in the region. This fact persuaded EU to play a primary role in assessing the electoral process, and I agree with you that this year's elections will be competitive, free and fair. Really, EU plans to play an effective role in Yemen's development in the days to come.
As we know, the conference of donors and Gulf Cooperation Council (GCC) member states on Yemen development will take place in London next November, and as part of their agenda, participants will discuss the Yemeni electoral process. So, I think that successful evaluation of this year's elections will be a point of strength for EU before donors to tell them to support Yemen and its emerging democracy. I expect EU to insist on donors not to abandon Yemen that experiences issues related to killing, instability and development.
EU and all donors, due to participate in London conference, have to pay attention to problems in Yemen and the EU report on elections will be the basis for discussing such issues.
Q. Is it true that opposition Islah party is using upcoming elections as pressure on president Saleh to prove it is a key player in Yemen politics?
A. I suppose that all political parties and organizations have good intentions and transparency and there should not be any malicious plot against such real competition. Such interpretations have become commonplace, but I expect the opposite. This year's presidential election features strong competition, and this real competition doesn't represent a favour for Saleh by Islah Party leaders, as they did in the previous election when they nominated and recommended Saleh to run for president before GPC did so.
This time, we will see that the majority of Islah party members will vote for candidates other than Saleh. If these party leaders speak of any favour for Saleh this time, it will be considered no more than an old ploy.
Q. Why in your opinion has the JMP bloc nominated Bin Shamlan as their presidential election candidate?
A. I have not attended JMP's dialogues and discussions which their reaching a consensus on Bin Shamlan as their candidate. This is an irregular phenomenon, as these parties could not agree on a presidential candidate from within and these parties may have more reputable and well-known personalities than Bin Shamlan. This phenomenon raises questions about why these parties did so. I don't try to interpret it now and I leave it for the coming days to interpret it.
Bin Shamlan's nomination upset many JMP leaders. In the light of this, the independent candidate Ahmad Al-Majidi said that he nominated himself to run for president because he was enraged by his party that could not nominate anyone although it has many leading personalities who are eligible to run for the country's highest political post and gain support of voters.
Q What does GPC say about JMP's campaigns shift to offensive stance?
A. Talking about corruption and proposing programs to combat it is not a topic put exclusively on the JMP agenda. The GPC devoted an entire chapter of its platform to fighting corruption, which is an unending process and it has a mechanism to eradicate the phenomenon. On the contrary, JMP has no clear mechanism to combat corruption, and I always say that corruption is the result of wrong policies pursued by the state. Another government's false policy is the wasting of millions of dollars Yemen received as support for development.
Corruption is the result of poor management, and we all admit that these managements, which have not met requirements included in the GPC program, have become home to corruption. Meanwhile JMP lacks these requirements.
Q. Do you think that revenge and spread of arms are behind recent killing incident in Al-Jawf, or is it for election-related reasons?
A. What happened in Al-Jawf is a tragic social occurrence, and the spread of arms is responsible for such incidents. Pessimistic people view the incident as an introduction to impeding clashes at voting centers and this pessimism has no place of reality.
Q. Opposition leaders argue that spread and trafficking of weapons as among reasons of corruption, What do you say?
A. During my post in the government, I had been engaged in controversy with the Islah Party over the Arms-bearing Organization Law. Islah Party leaders insisted that the government must be responsible for registering any piece of arms seen on the shoulder of any citizen. However, I told them had I had one hundred arms pieces, I would have registered one. How could the government know that I used one of the other pieces if I planned to commit a crime. The persistent issue is not, therefore, arms-bearing, rather it is the organization of arms-bearing, which is due to help reduce the crime rate and control perpetrators.
Spread of arms in Yemen constitutes a great problem that necessitates prudence, patience and a long-term program until people give up possessing of arms.
Q. This year's local councils elections are projected to be strongly competitive. Does this signify progress in Yemen's democracy?
A. The coming local councils elections are not like those of 2001, they are stronger and more competitive and their significance stems from the fact that if the candidate implements projects in his/her district or governorate, this will help him/her get a better chance to be elected once again in 2009. The past experience increased awareness of people about the importance of these elections and this is a good thing.
Q. How do you foresee future of Yemen's emerging democracy to look like after upcoming September elections?
A. I think democracy will grow better and all political parties and organizations will understand the meaning of democracy. I think the JMP electoral campaign will be imbalanced or uncontrolled. However, it is the first experience of its kind in Yemen and it will lay the ground for the next democratic experiences.
I am sure that international election observers' reports will face criticism and appreciation. Consequently, this is bound to make the democratic process firmer.
Further, candidates' addresses on electoral programs will develop over time, and at the same time avoiding promises that cause harm to democracy, voter and candidate as for the one who says he will make oil prices like they were in the 80s.
Q. As Yemen is the only country that has a democratic and republican regime in the area, do you think that this is a reason behind rejecting Yemen's admission to GCC?
A. I think that borders demarcation between Yemen and Saudi Arabia and Yemen and Oman forced all obstacles to disappear. I and all people bet on London's Conference for donor countries. We will not reach such a step, unless these countries are serious.