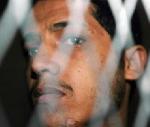 almotamar-net
- SANA'A-The State Security Court sentenced on Sunday both Hizam Al-Mas and Khaled Al-Halilah to five years in prison.
The two criminals are convicted with planning to assassinate the former
US Ambassador to Yemen Edmund Hull, in December, 2004.
Al-Mas had been accused of attempting to kill the ambassador and Halilah, a taxi driver, had been accused assisting al-Mas.