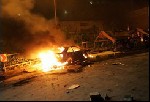 Reuters
- TEHRAN, June 27 (Reuters) - Angry Iranian motorists queued for gasoline for hours on Wednesday after the world's fourth-largest oil exporter imposed fuel rationing, sparking chaotic scenes and the torching of at least two pump stations.
One Iranian news agency, Fars, said 12 gasoline stations were set ablaze in Tehran after the government's announcement late on Tuesday, but only two could be independently confirmed.
Some drivers had scuffled while waiting to fill up their tanks before the rationing started at midnight. Others openly criticised President Mahmoud Ahmadinejad's government, which came to power vowing to share out Iran's oil wealth more fairly.
"We are swimming in oil and all they do is just put pressure on people," said taxi driver Hasan Mohammadi.