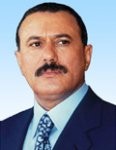 By: almotamar.net
- SANA'A- President Ali Abdullah Saleh called on local councils at both governorate and district level to hold their first meeting at the administrative centers on 1 November this year.
This came in the decision No (21) for 2006 regarding calling on local councils to meet.
The final results of the local council elections showed that the General People's Congress (GPC) won 315 seats at the level of governorates, representing 74.12 percent of the contested seats. Then Islah Party followed, with 28 seats (6.59 percent), while the independent candidates got 20 seats (4.71 percent), the Yemeni Socialist Party got 10 seats (2.35 percent) and the National Social party got only one seat.
At the level of districts, the GPC got 5,078 seats, or 73.75 percent of the total contested; the Islah Party got 794 seats, or 11.50 percent; the Yemeni Socialist Party got 171 seats, or 2.48 percent; the independent candidates got 571 seats, or 8.27 percent; and the Nasserite Popular Unionist Party got 26 seats, representing 0.38 percent; the Federation of Yemeni popular forces got eight seats or 0.12 percent, the National Arab Socialist Ba'ath party won two seats with 0.03 percent, and one seat went to each of the following parties: the Al-Haq party, the Democratic Union of Popular Forces, and Socialist Arab Ba'ath party.