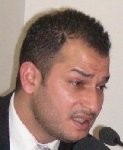 Almotamar.net
- Head of the General Authority for Investment in Yemen Salah Mohammed Saeed al-Attar said Thursday the real state project |Rayan Hills" that a preliminary agreement on it was signed Tuesday with the Qatari Rayan Company will be the first of its kind and expected to achieve great economic benefits.
Al-Attar made it clear that the cost of the project amounts to $400 million. It consists of a hotel, sport centre, trade centre and golf playground in addition to residential villas and it will be implemented in partnership between the government of Qatar, represented by the Rayan Company and the government of Yemen.
He added a joint company will be established to develop and manage this resort' 80% for the Qatari government and 20% for the Yemeni government, indicating the project will be pioneering in its international specifications, especially that the Rayan company has successful investments in Morocco, Syria, Egypt, Qatar and other countries and said it will provide job opportunities for Yemeni cadres and activate tourism in the capital and develop services in it.
26 September newspaper quoted al-Attar as saying the Qatari side will provide drawings and designs of the project at a certain span of time and the general authority for investment is to study the blueprint and grant facilities and support for it.