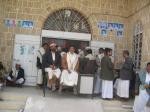 By:Aidarous Norji
- SANA'A, (Almotamar.net) - Head of the main operations room at the Supreme Commission for Elections and Referendum (SCER), brigadier general Ali Mohammed Salah, affirmed the main operations room has not received any reports on violations as the election campaigns kicked off throughout the country.
"That is due to the electoral awareness on the part of citizens, which they acquired during previous elections. The Unification has also secured legal election rights for them," Salah added.
"We feel proud that no woeful incidents have occurred since the electoral committees began registering and correcting voters' names in the election roll," he noted.
In a statement to the almotamar.net, Salah affirmed there are no worries about hindering the election process, which is evident in the reports received by the operations room.
He indicated violators will be referred to courts at the directives of committees' heads allover the governorates.