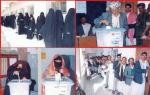 By: almotamar.net
- SANA'A- The Paris-based New Vision foundation is to hold an international symposium on Yemen's democratic experience, in which experts will tackle the elections held on 20 September this year.
A source at the foundation said the foundation would organize the symposium through its regional office in Dubai and host three prominent researchers in the democracy of the Middle East and three prominent international observers who participated in monitoring the September elections.
The Yemeni elections contributed in raising awareness of Arabic democracy in the world, and helped draw the attention of developed countries to support democracy in the third world countries, the source said.
According to the source, the Yemeni elections set an a unique example for Arab countries regarding fair and honest elections. Yemeni elections are the first Arab elections to gain more than 83.19 percent of transparency standards, he noted.