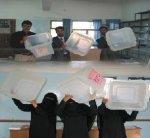 By: almotamar.net
- TAIZ - Mohammed Sa'eed Al-Haj, Taiz's Local Council Secretary General, said that a feasibility study for establishing the first housing city in the northeastern area of Taiz has been finished. The preliminary indicators of the study show that the investment cost of the 400-unit city surpasses the mark of one billion riyals.
Al-Haj added that the technical teams assigned by the local authority in cooperation with a number of private sector investors has begun conducting field visits to the potential sites.
On the other hand, pursuant to the directives of President Ali Abdullah Saleh for constructing q number of housing cities for middle income and limited income categories and create job opportunities for the youth, Taiz's local authority, in collaboration with the Social Care Fund and private sector, are to launch after the Eid Al-Fitr holiday the first phase of the anti-unemployment and job creation project by implementing several small investment enterprises which aim to provide some five thousand jobs with a total cost of one billion riyals.
Mohammed Al-Haj said, "The first phase will at the beginning target five hundred unemployed youth and create suitable job opportunities for them by implementing small productive investment enterprises with a total cost of forty million riyals funded by the Social Care Fund, Local Council and the private sector.