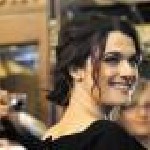 National Post
- High-minded or high concept, Rachel Weisz likes to be involved with either film style. This time around, as she co-stars in The Fountain, her boyfriend Darren Aronofsky's trippy sci-fi journey dealing with the search for the fountain of youth, it's a little bit of both.
The film, which opens tomorrow, also examines love and loss. In it, Hugh Jackman plays a 16th-century Spanish conquistador to Weisz's Queen of Spain. He's also a contemporary scientist seeking a cure for the cancer that's killing his wife (Weisz) and he's a 26th-century astronaut succumbing to loneliness.
Intermingling these three stories, Aronofsky constructs a complex yarn that seems just about right for the multi-talented Weisz.
Oddly, though, Weisz was recommended for the part by Jackman, who replaced Brad Pitt when Pitt backed out a few weeks before the shoot was to begin in Australia.
During gruelling pre-production discussions, in which Aronofsky trimmed the US$70-million budget by more than half and then moved the shoot to Montreal, Jackman came up with the idea of hiring Aronofsky's girlfriend.
"I hesitated at first," says the director, who previously made a name for himself with Requiem for a Dream. "Then I saw Rachel and Hugh's chemistry at a dinner and I couldn't deny it."
"I definitely was not going to be in the movie," says Weisz, who has a five-month-old son with Aronofsky. "And it was Hugh who first said to Darren that I would be really right for this."
And she is. Although Jackman admits one love scene "made me feel a little awkward."
Weisz laughs it off, recounting the sequence that has Jackman's scientist passionately embracing Weisz's doomed cancer patient.
"In the scene Darren was yelling for me to take Hugh's pants off, and I did, actually," she says. "I was a little shy at first, and then it felt right, so I got into it."
A lot of things have felt right for the 36-year-old since forming a Cambridge University theatre group in the early 1990s. That company eventually earned decent notices at the Edinburgh Festival. And in 1994, Weisz won the prestigious London Critics' Circle Award for her role in Noel Coward's Design for Living.
Her 10-year movie career began with her mainstream film debut in 1996's Chain Reaction. Weisz re-teamed with Keanu Reeves in Constantine in 2005. In between, The Mummy movies increased her profile and her paycheques. Last spring, she won a best supporting actress Oscar for her performance in The Constant Gardener.
Weisz's recollections of the memorable night include making lots of trips to the bathroom, since she was seven months pregnant.
"There were commercial breaks, so I was always running to the loo," she says of the Academy Awards TV show. "When I finally heard my name called I got up and I told myself, 'Walk slowly.' I did and then it was over. It was surreal."
But Weisz is not basking in Oscar's glow, preferring the more down-to-earth, day-to-day existence of taking care of her baby.
"Oh, gosh, it's the most wonderful thing," says says of caring for her son. "I'm deeply in love. But he's not talking back to me at this point."
Post-baby, Weisz is rejecting time-consuming lead roles to concentrate on her motherly duties, although she does consider co-starring parts.
"The good thing about being an actress is that there is a lot of downtime on set and between films," she says. "So he can come and hang out because usually babies are very welcome."
Indeed, with baby in tow, she recently finished up Asian auteur Wong Kar-Wai's My Blueberry Nights, which is the director's first English-language film.
"It was an amazing experience during my time in Memphis, and he's definitely a genius," confirms Weisz of the filmmaker who won a best director award for 1997's Happy Together at the Cannes film festival.
"He's definitely a movie poet, like Darren," she continues. "They both have film visions that don't look like any others."
Typically, Weisz is challenging herself by adopting a Tennessee twang for her latest part.
"I'm married to David Strathairn and he's an alcoholic cop and we have a very messed up relationship," she explains, smiling. "We brawl in bars, and it was great fun to do."