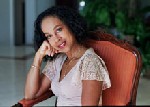 Google CBC Art
- Bestselling American author Bebe Moore Campbell, whose novels often explored the ethnic and social divides in the United States, died Monday at the age of 56.
Campbell, who may be best known for the award-winning 1992 novel Your Blues Ain't Like Mine, was diagnosed with brain cancer in February. She passed away at her home in Los Angeles from complications due to the disease, her publicist confirmed.
"My wife was a phenomenal woman who did it her way," her husband, Ellis Gordon Jr., said in a statement. "She loved her family and her career as a writer.
Campbell's books, largely fictional but based on real-life stories, included the perspective of many ethnic groups.
Your Blues Ain't Like Mine, one of her first novels, dealt with prejudice in the U.S. and earned Campbell an Image Award for literature from the National Association for the Advancement of Colored People.
She followed that up with Brothers and Sisters, a New York Times bestseller that focused on race relations in the corporate world after the 1992 riots in Los Angeles. She also had New York Times bestsellers with Singing in the Comeback Choir and What You Owe Me, which was named a Best Book of 2001 by the Los Angeles Times.