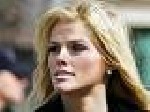 almotamar.net Google entertainment
- Anna Nicole Smith wanted to be buried next to her son in the Bahamas and bought two double burial plots for their final resting places, Howard K. Stern, the former Playboy Playmate's last companion, told a Florida court today.
In his first court appearance since Smith died on Feb. 8, Stern sat in the witness chair in front of photographer Larry Birkhead, Smith's former lover, who also claims to be the father of 5-month-old Dannielynn. Stern is listed on the birth certificate as the child's father.
The paternity issue has hung like a stubborn raincloud over the Florida hearings, which resumed this week. Arguing that knowing the father would help unravel the complicated legal skein, Circuit Judge Larry Seidlin offered to take jurisdiction over the paternity issues pending in California, but his effort was rejected this morning.
That still left the issue of where to bury the embalmed body of Smith to be decided in the Fort Lauderdale courtroom.
Stern, who had a commitment but not a marriage ceremony with Smith, is asking the court to allow Smith to be buried near her dead son in the Bahamas. Smith's mother, Virgie Arthur, is contesting the request, arguing that her daughter should be buried in her native Texas.
Stern testified for an hour before the court recessed for lunch. He is expected to face cross-examination this afternoon from lawyers who spent much of the morning deriding his testimony as irrelevant hearsay.
"She was pretty much my whole world," Stern said as he began. Smith was "my best friend, my lover, the mother of my daughter, my everything to me."
Stern described how Smith, one in a line of tragic blonde bombshells who traded sexual display for fame, originally wanted to be buried near Marilyn Monroe in Westwood. But that desire changed when Smith discovered the Bahamas last summer.
"Anna was very firm that the Bahamas was her home," Stern said. "It was where she wanted to raise Dannielynn. She was very firm."
The desire to be in the Bahamas increased after Smith's son, Daniel, died of an apparent drug overdose on Sept. 10, Stern said.
"Anna always thought she was going to die young. She asked me to look at plots in the Bahamas," Stern said.
"She picked out the two double plots where Daniel is resting in and where she wanted to be as well," Stern said, after describing a devastated Smith who had trouble coming to grips with the loss of her son.
"She didn't want to believe Daniel was dead," he said. "If Daniel had to be buried, she said, 'I want to be buried with him,' " Stern testified.
Lawyers representing Smith's mother repeatedly rejected Stern's testimony, arguing that there was no way to know whether Smith had said the things Stern claimed. In addition to the testimony being hearsay, they contended, it didn't deal with what they said was the real issue: the mother's claim to be entitled to decide the fate of Smith's body.
Today's hearing began cordially, but soon whirled out of control over the paternity issue. The question of fatherhood is even more pressing because Smith's estate could total hundreds of millions of dollars, depending on court action involving her claims that she was entitled to inherit the fortune of a Texas oil tycoon to whom she was married for 14 months.
Smith married J. Howard Marshall II in 1994 when he was 89 and she was 26. She had been fighting his family over his estimated $500 million fortune since his death in 1995. At one point, the case went to the U.S. Supreme Court, which ruled in her favor and sent the matter back to the federal courts in California, where it is pending.
Earlier, Seidlin made it clear to at least four sets of lawyers representing the feuding parties that he wanted to broaden the question in the Florida case from where to bury Smith to the paternity issues swirling around the child, Dannielynn.
"If there is no objection by the parties here today," Seidlin said, "I'm going to assume jurisdiction of the paternity matters."
But Krista Barth, representing Stern, strongly objected to increasing the scope of the complicated hearing.
After about an hour of often-acrimonious back and forth arguments, including a public charge by Barth that another lawyer this morning had accused Stern of killing Smith, the judge moved the deliberations into chambers.
The hope was that the move into private would cool tempers heated by the unrelenting media glare since Smith died in Florida of yet-to-be determined causes.
When the parties came out of chambers after more than an hour of private talks, it was clear they couldn't come to an agreement.
"If we knew who the natural father was, in this limited area, it would help the court. It would help me tremendously," Seidlin said.
"They don't want to do it. The moment is not right," he said. "We're going to proceed in this trial without that bit of evidence coming in."
"It's been a circus," said lawyer Ron Rale, representing Smith, who was 39 when she died.
"It's not a circus anymore," Seidlin replied. "I'm going to bring us to a higher ground."
The paternity issue continued to be litigated in Los Angeles today. At a closed-door hearing, Superior Court Judge Robert A. Schnider denied a request by Birkhead's lawyer, Debra Opri, to assert emergency jurisdiction over Dannielynn, who is in the Bahamas, said lawyer James Neavitt, who represents Stern.
Schnider did ask Florida officials to allow Birkhead's expert to test DNA taken last week from Smith's remains, the lawyer said. Schnider last week withdrew his request for Smith's body to be preserved in Florida after authorities insisted there was enough material for DNA tests.
As a precaution, however, Seidlin last week ordered that more DNA material be gathered and allowed all of the lawyers to be present to ensure there would be no dispute over the chain of evidence in the expected paternity cases.
There is another paternity claim pending in Santa Monica, brought by Prince Frederic von Anhalt, the husband of actress Zsa Zsa Gabor. Two other men have indicated they could also be the father of Dannielynn, born three days before Smith's son Daniel, 20, died.
It was not clear when the issues about burying Smith will be resolved. A 2001 will released last week showed that Smith made no provision for disposal of her remains. Stern was named executor of the will.
The will, however, is in dispute with lawyers for Smith's mother, Arthur, contesting its legality. Seidlin has accepted it as a document, without judging its merits.
________________________________________