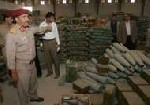 Reuters
- SANAA, May 27 (Reuters) - Yemen has spent millions of dollars in recent months buying up bombs, artillery, even anti-aircraft guns, from ordinary civilians as part of a crackdown in the Arab country where arms are openly carried.
Yemen's cabinet launched a campaign last month to shut down shops selling weapons without a license and confiscate unlicensed weapons.
It also said that millions of dollars would be spent buying up weapons from heavily-armed tribesmen, in a country where tribes remain strong.
In a tour organised by the Defence Ministry, journalists were shown this week three large stores of weapons rounded up from Yemenis in recent months.
The weapons included mortars, surface-to-air missiles, anti-tank shells, rocket-propelled grenades as well as large quantities of mines, explosives and ammunition.
Large amounts of weapons were left in the hands of civilians in Yemen after the 1994 civil war.
The state does not publish official statistics about the number of firearms held in the country. Some unofficial estimates put the number as high as 60 million weapons, but Western diplomats say it is probably closer to 20 million, the equivalent of one for every Yemeni.
The government campaign does not target small firearms in a country where there is an assault rifle in every home and men still wear daggers, the traditional weapon for self-defence.
Yemeni Interior Minister Rshad al-Alimi said last week that the government had spent billions of riyals, or millions of dollars, buying up weapons as part of the crackdown.
Yemen joined the U.S.-led war against terrorism launched after the Sept. 11, 2001 attacks on the United States and has been battling Islamist militants for years.