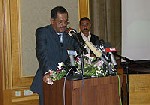 UNICEF
- SANA'A, Yemen, 20 June 2007 – The discussion about persistent forms of violence perpetrated against children in the Arab world places Yemen in a crucial position. Though challenges remain, initiatives to combat manifestations of child abuse here have proven both effective and sustainable.
So it is appropriate that, with UNICEF's support, the Second Arab Regional Conference of the International Society for the Prevention of Child Abuse and Neglect (ISPCAN) is taking place in Sana'a this week. On hand for the discussions are government delegates, UN agency representatives, policy makers, members of national and international non-governmental organizations, civil society leaders and human rights advocates.
The goal of the three-day gathering is to amalgamate regional expertise on children's issues and develop short- and long-term partnerships for safeguarding and promoting children's rights – including their rights to well-being, dignity and development in fully protective environments.
Violence in homes and schools
Yemeni Prime Minister Ali Mohammad Majawer gave a flying start to the conference, highlighting his country's strong commitment to child rights and urging participants to contribute fresh insights and ideas. Following Yemen's ratification of the Convention on the Rights of the Child and other relevant instruments, he stressed, the government has been striving to translate articles and agreements into concrete legislation, interventions and development programmes.
Mr. Majawer illustrated his point with the experience of the Yemeni Children's Parliament, which has provided a practical model of participatory interaction to tackle child rights violations nationwide.
Also at the opening session in Sana'a was UNICEF Regional Goodwill Ambassador for the Middle East and North Africa Mahmoud Kabil, who called for a retrospective examination of the factors breeding violence in home settings and within the family. "Very little should suffice for us to interpret a newborn's innate language, which tells parents a child's innocence need not be harmed," he said.
Mr. Kabil went on to urge that conference participants thoughtfully review the reasons behind continued corporal punishment, harassment and discrimination in schools.
"Every child getting slapped, humiliated or intimidated by educators in their classrooms is likely to become an equally abusive and hateful parent, leader and professional in the future," he noted. "Re-educating parents remains at the very core of efforts to curb the harmful and persisting cycle of violence against children."
From rhetoric to results
As the continuation of a debate initiated two years ago in Amman, Jordan, the ISPCAN conference seeks to engage a wide range of child rights activists in engineering well-organized networks across the region. These networks, in turn, can address critical issues affecting children's welfare and promote the participation of young people themselves in the regular monitoring of abuse and exploitation against their peers.
According to several experts at the conference, building skills among professionals here and now is an absolute pre-condition for the achievement of this objective. In fact, they said, the development of such networks must precede long-awaited social and legal reforms.
"Despite the increased acceptance of international norms, the continued existence of hundreds of millions of children exposed to abuse, neglect, exploitation and violence demonstrates the grave challenges that remain," said UNICEF Representative in Yemen Aboudou Karimou Adjibadé. "The time is ripe now to make the transition from rhetoric to better and lasting results for our children."
Seen as a follow-up to the UN Secretary-General's Study on Violence against Children, issued last October, the ISPCAN meeting is one of several opportunities this year for high-level regional deliberations on the issue. Next week in Cairo, from 25-27 June, international experts will gather yet again to review the status of implementation of the global study's recommendations.
Source: UNICEF