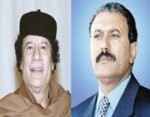 almotamar.net
- President Ali Abdullah Saleh on Tuesday received a message from he leader of the Libyan 1 September Revolution Col. Muamar Gaddafi dealing with brotherly relations and fields of cooperation between the two countries.
The message contained consultation and exchange of viewpoints regarding developments in the region and the challenges the Arab nation is facing under current circumstances and the importance of Arab stands coordination with the aim of overcoming the Arab situations and confronting the challenges.
The message also affirmed Libya's keenness on enhancing and strengthening relations with Yemen in all areas. The message was conveyed by the envoy of the Libyan leader Gaddafi, Ahmed Gaddaf al-Dam when president Saleh received him Tuesday.
On his part president Saleh asked the Libyan envoy to convey his reply message to Col. Gaddafi, wishing him good health and continuous prosperity for the Libyan people.