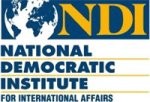 almotamar.net
- The resident director of the National Democratic Institute (NDI) in Sana'a Peter Demitrov praised Wednesday success of the Supreme Commission for election and Credendum (SCER) in managing the by- election process in the constituencies 21 of Aden and 88 of Ibb which took place recently.
The international official described, in his meeting on Wednesday with chairman of the SCER Khalid Abdulwahab al-Sharif, the elections as free and decent and was carried out calmly and normally at their stages and their results are correct.
The meeting also reviewed the procedural and executive steps the SCER has taken for the success of the parliamentary by-elections with the aim of enhancing the Yemeni American cooperation in the supporting the upcoming parliamentary elections.
On his part the chairman of the SCER valued the level of cooperation and partnership between the commission and the NDI in the area of election support.