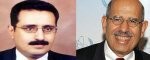 almotamar.net
- Director General of the International Atomic Energy Agency (IAEA) Mohammed Al-Baradei praised Thursday the steps Yemen has taken for electricity production and water desalination by nuclear energy.
That came in a meeting of Al-Baradei with Yemen's minister of electricity and energy Dr Mustafa Bahran Thursday on the sidelines of the IAEA's general conference held in Vienna, Austria.
Al-Baradei pointed out it was a distinguished experiment for its being an investment idea using BOO system and it is interesting as it is considered an example to follow suit in addition to its being the shortest and easiest methods for the nuclear energy incorporation in production of electricity.
Meanwhile, Bahran also met the deputy director general of the IAEA for nuclear security and safety affairs who showed preparedness of the agency for training Yemeni cadres in the field of nuclear safety. He indicated he would send a team from nuclear security and safety sector in response to Yemen's request in order to put a joint working programme in this respect.
During his meeting with the deputy director general of the IAEA the Yemeni minister also discussed areas of cooperation between Yemen and the agency in the technical field. The minister stressed the importance of the agency support for Yemen in the field of building centres for treatment of cancer especially the project of building a project for treatment of cancer in the city of Aden.