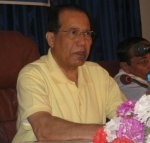 almotamar.net
- Secretary General of the General People's Congress (GPC), the advisor to the president Abdulqader Bajammal on Thursday said the great implications of the presidential and local elections held in Yemen last year are in the categorical emphasis on the great correlation of unity and democracy as a basis for progress, prosperity and social peace.
On the first anniversary of the presidential and local elections Bajammal pledged renewal of loyalty to President Ali Abdullah Saleh and expressed great appreciation for the Yemeni people who a year ago have registered one of their greatest stands in the democratic march.
In a Ramadan evening in Hadramout governorate held on Thursday Bajammal pointed out the big importance of the governorate of Hadramout in the processes of liberation, unity and development.
Bajammal said," The political leadership and the government understood some problems related to the retired rights and realized the danger of irresponsible behaviour of violation against lands and properties of the state as well as the citizens' rights. Radical resolve of all those actions is currently going on so that everything returns to normal and the strict application of laws and legislations"
Bajammal added the important way for enhancement of democracy is the large-scale dialogue on the new law of the local authority based on the president of the republic's initiative on election of governors of governorates and districts. And in this regard he called on political parties and organisations, civil society organisations and men of intellect, politics, law and economy to realize the importance of this law and to contribute actively to discus it at both popular and elite levels.
Mr Bajammal said the General People's Congress would work for making dialogue serious and sincere so that to be reflected on the required amendments and to make the law a true popular revolution of democracy.