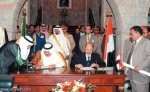 almoptamar.net
- Meetings of the session 18 of the Yemeni-Saudi Coordination Council are to begin in Jeddah, Saudi Arabia. The meetings are to be co-chaired by Yemen's Prime Minister Dr Ali Mahmoud Mujawar and the Saudi crown prince Emir Sultan Bin Abdulaziz.
The planning undersecretary and head of the Yemeni side to the preparatory committee Hisham Sharaf Abdullah said there were 14 agreements, protocols and executive programmes to be submitted to the meetings, among them six financing agreements and 8 ready for signing.
Sharaf added there will signing on financing agreements related to health, education and energy projects, indicating there are agreements and programmes to be presented to the Coordination Council in the judicial field and marine life diversity, fish wealth, agriculture cooperation, public health, earth sciences and three executive programmes between universities of Hudeida and Hadramout with King Abdulaziz University in Jeddah and Al-Qaseem University.