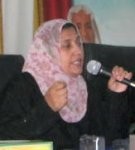 almotamar.net
- Vice-Chairperson of the Supreme National Anti-Corruption Authority (SNAA) Dr Bulqis Abuisbaa said they have recently participated in a preparatory meeting of the Wise Government Initiative held in the Egyptian capital Cairo.
In an exclusive statement to almotamar.net she said the SNAA participation gave it opportunity of contribution to the call for establishment of a regional network on fighting corruption in the Arab Homeland. She has made it clear that the network the UN called for its establishment would be concerned with considering the extent the implementation of agreement s on combating corruption and assessment of the states that committed to it.
Abuisbaa considered the participation as an opportunity to inform others on the experiment of founding the SNAA in Yemen, the method of electing its members and the nature of the tasks assigned to it.
The delegation of the Yemeni SNAA participated in the first of its external activities. The delegation was headed by vice-chairman of the SNAA Abuisbaa and membership of Ahmed Farhash, member of the SNAA.