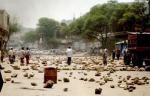 almotamar.net
- Legal sources said Saturday taking to the street by protest activities of a demanding characteristic and rights within work is considered as violating the law except those which were licensed by the competent authorities.
The sources told almotamar.net that activities held in headquarters of work demanding certain rights are supposed to take place within their own workplace as they are mostly demands of rights related to work by a certain employment group affiliate of a certain work facility.
The sources added when such activities leave the workplace to the streets they become demonstrations which require license beforehand from concerned authorities that will provide security protection for them and protect properties of citizens.
The legal sources said id such unlicensed gatherings take place the security authorities have the right to prevent them.