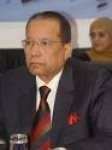 almotamar.net
- Secretary-General of the General People's Congress (GPC) Abdulqader Bajammal on Saturday described whoever tries to smear the historic stands of the masses towards national unity, democracy and development as a person living in an illusion and psychologically sick inside.
In a mass ceremony held in Hadramout governorate on the first anniversary of the presidential and local elections and the 45th Day of 26 September Revolution as well as the 44th Day of 14 October Revolution Bajammal said any of those phenomena does not represent the solid base of "Our absolute faith in unity by the masses of this governorate."
Bajammal also talked about the utmost importance the electoral process represents in democratic unionist process as it is the sole way for progress and political, economic and social development.
The Secretary General of the GPC stressed that civilized changes should depend on the movement of the human history where there are peace, stability and reassurance as the objective foundation of advancement and development the masses aspire for. He said all objective conditions are available for the realization of a real progress "in our life" but there must a rational control m influence of the subjective conditions. Bajammal pointed out that the political leadership and the government have taken necessary decisions and measures for tackling shortcomings in administration and judiciary and pointed to the importance of cooperation by all for the success of all that, including the political parties and organisations and civil society organisations. Bajammal also reviewed directions of future work and the executive measures regarding content of the lection programme of President Ali Abdullah Saleh. He affirmed tat the president has always been the true pioneer and ever advocate of national dialogue as the GPC was founded on the bases of responsible dialogue. He recalled president Saleh's initiative for development of the democratic process and the ongoing amendments of the local authority law, the law of elections and parties as well as that of press and publications saying they are outstanding landmarks on seriousness and truthfulness of work towards activation of political life movement and discussion concerning its future pillars.
Saba