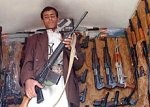 almotamar.net
- The campaign of preventing bringing weapons inside the provincial capitals in Yemen resulted in the seizure of 16486 various pieces of arms in 28 days since the beginning of carrying out the campaign on 13 of last August until last Friday.
General Mohammed Abdeh al-Qawsi, interior undersecretary for security sector told almotamar.net 14432 pieces of weapon have been retained at areas of the security zone and were prevented from entering the provincial capitals during the same period.
In his statement to almotamar.net the general pointed to retaining of other 2054 pieces inside the provincial capitals, clarifying that the plan for preventing weapons was progressing without facing any problems.
General al-Qawsi reiterated call of the interior ministry on senior officials of the state and personalities as well as businessmen to report to the concerned authorities and determine who they want to accompany them so that to give them licenses before the end of the defined grace period of 60 days starting from the beginning of this month.