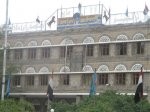 almotamar.net
- The General People's Congress (GPC)'s General Committee on Sunday blessed President Ali Abdullah Saleh, the leader of the GPC call on leaders of political parties and organisations in Yemen for holding a dialogue on all national issues with an open agenda.
In its meeting on Sunday chaired President Saleh, the leader of the party, the General Committee expressed its appreciation of that call which expresses the president's keenness on defining the national partnership in all that concerns the homeland as dialogue is the ideal way for tackling all issues and problems away from means of media wrangles which do not serve the national interest.
The committee also considered he report presented by the GPC's secretary general on results of the dialogue with the political parties and organisations and what was attained so far. It has also discussed many issues related to the level of implementation of the president of the republic's platform and stressed the importance of continuing efforts for the completion of the programme implementation.
The meeting dealt with results of meetings of the second session of the permanent committee of the party and the decisions and recommendations reached. The general committee pointed out the role played by members of the GPC in confronting the campaigns of misleading, the wrong mobilization and the attempts to destabilize the social security and offend the national unity. It affirmed the importance of undertaking the task of revealing the facts and to inform the people on them and expose all suspicious schemes and attempts to cause damage to the homeland, its democratic pursuit and its unity.
On the other hand the general committee greeted the Yemeni people on the first anniversary of the presidential and local elections held on 20 September 2006. The committee expressed its appreciation of the confidence the people gave to the GPC and its leadership represented by President Ali Abdullah Saleh, emphasizing that the GPC would be loyal to the people and keen on their interests and embodying of their aspirations. He committee has also congratulated the Yemeni people on the Yemeni revolution days; the 45th Day of 26 September Revolution and the 44th Day of 14 October Revolution in addition to the Day of the national independence on 30 November. It indicated the great and deep accomplishments and changes achieved for the Yemeni people at various political, democratic, economic, social and cultural levels.
The committee stressed that the options of revolution, unity and democracy are the firm civilized options under which the energies of the people interacted for the making of a better life and construction of a new Yemen.
The meeting approved Mujahid al-Fuhali joining of the membership of the general committee and discussed many issues and subjects and took decisions on them.