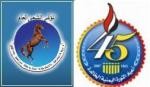 almotamar.net
- Secretary General of the General People's Congress (GPC) Abdulqaser Bajammal on Monday congratulated the Yemeni people, leaderships and bases o the GPC, heads and members of the legislative and executive powers, the Shoura Council, Higher Judiciary Council, political parties and mass organisations on celebrations of the Days of the Yemeni Revolution.
The Secretary General also congratulated on the occasion heads of members of the parliament, Shoura council, the cabinet, heads of the Higher Judiciary Council and the General Prosecutor.
Bajammal congratulated as well chairman and members of the Supreme Commission for Election and Referendum, secretaries and leaders of Yemeni political parties and organisations, mass organisations and national and social figures.
The GPC Secretary General expressed in his congratulatory cables his wishes for all for continuous health and for more progress and prosperity of the Yemeni people and homeland under the leadership of President Ali Abdullah Saleh.