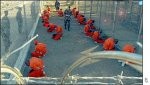 almotamar.net
- Official sources said Wednesday that Yemen received one of the Yemeni detainees in Guantanamo Bay called Ali Mohamed Nasser.
Reliable sources mentioned that Yemen continues its endeavours with the American side for the release of all Yemeni detainees and to subject them to Yemeni legal procedures if it is proved their being involved in terrorist acts.
In the past period Yemen received five of its nationals detained in Guantanamo Bay.
During his latest visit to Washington President Ali Abdullah Saleh demanded the release of all Yemenis detained in the United States.
Source: 26 September