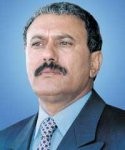 almotamar.net
- Press sources on Thursday mentioned that President Ali Abdullah Saleh is to meet on Saturday with heads and members of the civil society organisations in Yemen to acquaint them with the initiative he announced during the celebration held on Tuesday by the armed forces and security at the War Academy on the occasion of the 26 September and 14 October revolution Day, the president's initiative aims at developing the political system and expanding the local rule.
26 September newspaper of today quoted reliable sources as saying the president would acquaint the civil society organisations with goals of the initiative and the following steps and the call for participation by all of the political forces including the civil society organisations for enriching the initiative the president has proposed to the General People's Congress General Committee and its approval.
The sources expected that the meeting would be attended by 1200 persons from 400 NGOs.
The president called in his speech for engagement of the civil society organisations in the dialogue so that to guarantee participation of all political forces and organisations in Yemen in the discussion of the initiative out of his keenness on considering all opinions and suggestions so that to enhance its success.