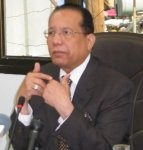 almotamar.net
- Advisor to the president of the republic, the secretary general of the General People's Congress (GPC) Abdulqader Bajammal on Monday reaffirmed Yemen's adherence to its declared constants and stands in supporting the Palestinian cause justice, pointing out in this regard stands of the Yemeni political leadership, represented by the president of the republic, expressing those constants through the Yemeni political stands declared at various regional and international forums.
In his meeting Monday with the Palestinian ambassador to Yemen Dr Ahmed al-Diek, Mr Bajammal praised the depth of the Yemeni-Palestinian relations whose foundations were laid by President Ali Abdullah Saleh and the late Palestinian President Yasser Arafat.
Bajammal added that Yemen, in all of its stands regarding the Palestinian issue, depended on its firm conviction of the importance of the Arab rank unity in facing the challenges facing the Palestinian issue as well as the necessity that internal differences between the brothers should be overcome in order to strengthen the Palestinian stand and struggle in confrontation of the occupation with all available ways. The GPC secretary general also welcomed the new Palestinian ambassador, stressing the Yemeni political leadership keenness on offering all necessary facilities to enable him perform his diplomatic representation job in the manner consolidating the joint relations.
The Palestinian ambassador expressed his appreciation of the Yemeni stands supportive for the Palestinian cause, indicating that stands of the Yemeni political leadership and the government are appreciated by all the people of Palestine as they are coming from the sincere keenness on supporting the justice of the Palestinian issue.