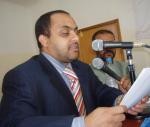 almotamar.net
- The official spokesman for the committee entrusted with implementing decisions of the National Defence Council in Yemen concerning the events of Saada on Thursday denied recent press reports on formation of a new mediation committee, emphasizing that the present committee to supervise carrying out the agreement would to resume its job in convenient time.
Responding to a question by almotamar.net in this regard the Member of Parliament, the member of the committee Yasser al-Awadhi denied that the tasks of the committee were terminated and confirmed continuation of its work that would be resumed when suitable circumstances are available.
Last June the committee succeeded in putting a ceasefire in Saada into force. The committee was then there under instructions by the President of the Republic.
The committee was formed from members of parliament and shoura council under chairmanship of the shoura council vice chairman Muhsin al-Ulufi and membership of heads of parliamentary blocs to oversee implementation of the agreement in a definite period.