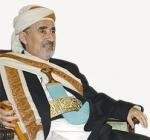 almotamar.net
- The Yemen's Presidency has on Saturday mourned the death of late Speaker of the parliament sheikh Abdullah bin Hussein Al-Ahmar who died in Riyadh Saturday the capital of Saudi Arabia at age of 74 years after suffering from a chronic disease.
A presidency statement sadly announced the death of the parliament Speaker Sheikh al-Ahmar Saturday to the people of Yemen and the Arab and Islamic nation following a long life of struggle he spent serving the homeland, the revolution, the republican regime, unity , democracy, development and service of the issues of his Arab and Islamic nation.
The statement said the deceased was one of the great national symbols and strong pillar of the revolution and the republic as well as a prominent nationalist and Islamic personality that served his homeland and, the Arab and Islamic nation. Sheikh al-Ahmar played a great role in the outbreak of the Yemeni revolution and the march of defending it at its various difficult and historical stages.