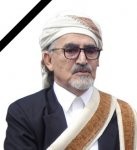 almotamar.net
- The General Secretariat of the General People's Congress (GPC) mourned Saturday the death of Yemen Parliament Speaker Sheikh Abdullah Bin Hussein al-Ahmar, Chairman of the Higher Committee of the Yemeni Congregation for Reform (Islah) Party.
The GPC General Secretariat its deep sorrow for departure of this great struggling figure hat throughout all his life has represented a pioneering symbol of the Yemeni revolution and the Yemeni national, unitary and democratic action and in addition to his national characteristics he was one of the courageous symbols of the national Islamic movement.
The GPC General Secretariat said," With departure of Sheikh Abdullah Bin Hussein Al-Ahmar the homeland has lost a lofty figure that has left a heritage of principles and strong stands undoubtedly represent a school for the upcoming Yemeni generations."
In its mourning statement, the General Secretariat of the GPC expressed its condolences to President Ali Abdullah Saleh, the leader of the GPC and the family of the deceased, confirming that the Yemeni people have lost a unique national personality, courageous struggler and a wise politician known for his principles, options and national and Islamic stances.
The statement also mentioned about the prominent role of the deceased in the national dialogue that resulted the national charter as he was among the founders of the GPC and member of its permanent committee. It said the positive relationship continued between the GPC leadership and Sheikh al-Ahmar to an extent the GPC considered him it candidate to the parliamentary elections he nominated himself for the presidency of the parliament.