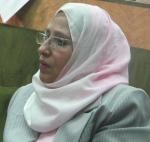 almotamar.net
- Yemen's Human Rights Minister Dr Huda al-Ban reviewed Sunday with a delegation of the International Federation of Human Rights (IFHR) development and prosperity of Human Rights in Yemen. The Minister affirmed that the Yemeni laws are in harmony with international laws of human rights.
Al-Ban added that that Yemen has presently become receiving international and western big interest especially from Arab countries due to the efforts exerted by the Yemeni political leadership that works for demonstrating Yemen in the image required abroad.
The Yemeni minister made it clear that the ministry of human rights works in effective partnership with organisations of civil society in the area of human rights.
On her part Samira Tarad, a researcher in human rights authorized by the International Federation of Human Rights affirmed that Yemen has become among the countries advanced in the field of human rights despite of its recent establishment.
She has also affirmed that Yemen has advanced in development and stability in a noticeable way and said that development is clearly seen in what they have seen in Yemen at present in various fields. At the end of he meeting she wished for Felix Arabia more progress and success in different areas of development and human rights.