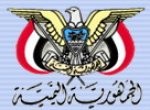 almotamar.net
- An official source at the Yemeni foreign Ministry on Monday denies truthfulness of reports published by media instruments that the United States of America informed the Yemeni government last week on canceling holding the 4th future Forum in Sana'a and decided to transfer the venue of its convention to another country for security reasons.
The source added the Yemeni government has apologized hosting the forum after exceeding the date of its convention that was due last December and as it did not receive a new date from the G-8 in addition to the problem of the transfer of G-8 presidency from Germany to Japan with the beginning of 2008.
Concerning apology of the US Secretary of State Condoleezza Rice of taking part in the forum at its previous date the source said it was as a result of Yemen refusal to hand over the Yemeni citizen Jamal al-Badawi to the US because that contradicts the constitution and the law in Yemen. Nevertheless, the United States has expressed its willingness to attend the conference if it were to convene at its date but they asked its postponement to provide opportunity for Rice to take part and that was accepted by Yemen and according to that it was requested from other countries.
He expressed his astonishment of remarks mentioning that holding the conference in Yemen is as a certificate of credit for the Yemeni government for its democratic pursuit and political openness. He affirmed that democracy in Yemen is an option taken by Yemen's will and its national conviction as it expresses a national interest. The source pointed out that 63 states and organisations had accepted the attending of the forum in Yemen including the United States of America.