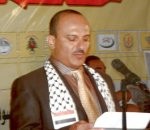 almotamar.net
- Chairman of Kanan Society for Palestine Yahya Mohammed Abdullah Saleh said Monday he was surprised by reports by newspapers representing opposition parties in Yemen talking about trends and movements and national personalities intending to hold a unifying conference and intend to entrust chairmanship of the conference with him.
Commenting on what has been published in some media instruments and websites in this regard Yahya Saleh affirmed to almotamar.net that there was absolutely no discussion of such a matter with him by a person or a group, " The subject was not discussed with us or suggested it to us in principle whether as a project or even as an idea."
He added "With regard of the news concerning us we do not give an opinion that has not been submitted to us or was not discussed with us on the table."
Nonetheless. Yahya Saleh, who adopts civilian activities supporting the nationalist issues, has affirmed his backing up of any plan unifying forces and parties inside Yemen provided that they have goals towards enhancement of political and social stability and serving the interest of Yemen and the Yemenis.