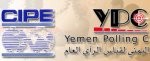 almotamar.net
- The Yemeni Polling Centre (YPC) and Centre for International Private Enterprise (CIPE) of the American chamber of commerce in Washington are carrying out a training programme on planning and implementing processes of gathering economic data benefiting from which a number of chambers of commerce and industry, the general federation of chambers of commerce and industry and businessmen club in Yemen.
The programme that is considered a new style of the YCP activities is composed of two training courses each of which is divided into theoretical and practical parts.
A pres release received by almotamar.net mentioned that the first course will be held on 9-14 next February where 14 specialised employees in the federation of chambers of commerce in Sana'a and Taiz, Hudeida and the Yemeni businessmen club who are nominated for the progammes are to participate.
The release pointed out that the theoretical part of the first training course contains learning the ways of planning the goals and projects and the scientific methods in gathering data required for taking decisions pertaining to the economic activities with participation of Dr John Sullivan, the executive manager of the CIPE who is to visit Yemen and a number of top economic experts in the United States.
In the application part of the course the trainees are to plan and economic project and design a form and sample for study and gathering data in field via conducting direct meetings the study society under the supervision of a specialised team from YPC.
Trainees in the second training course scheduled to begin in the mid of next March will learn the scientific ways and conditions for operating the data and derive the findings and analyze them. In the application part he trainees will design tables of branching data they have gathered in the first course by creating an Excel programme and design tables of the findings and analyzing them.