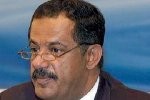 almotamar.net
- Yemen's Premier Dr Ali Mohammed Mujawar on Monday affirmed the Yemeni Qatari relations are distinguished and special and expressed his hope that the relations would witness a qualitative transfer in the future.
Mujawar pointed out that the relations between Yemen and Qatar have always been distinguished and close and characterized by continuation as well as they receive support of the political administration in both countries.
Dr Mujawar who is on a visit to Qatar leading a high ranking official delegation comprised of ministers and senior officials in the Yemeni government affirmed the concreteness of the fraternal link of the two peoples that contributed to expand bilateral cooperation and the identical of their viewpoints regarding different regional and international issues.
In a statement to the Qatari newspaper Al-Raya the Yemeni premier indicated that Yemen is looking forward that the relations would see a qualitative transfer in the area of trade and investment and other areas.
Dr Mujawar added that his visit was in response to invitation by Qatar's prime minister Sheikh Hamad Bin Jassim Bin Jabr Al Thani with whom he would discuss issues of cooperation between Yemen and Qatar in economic and development areas.