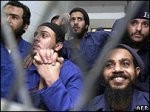 almotamar.net
- The Specialised Criminal Court approved Tuesday fixing the date of next Saturday to pronounce verdict against the defendant accused of being affiliated to al-Jihad group.
In the first sitting for trial of the defendant held Tuesday the accusation statement was read out and included that the accused had forged a passport and personated his brother Sanad and used that to travel to Iraq and mislead authorities at the airports of Sana'a, Cairo and Damascus.
Judicial sources disclosed to almotamar.net the arrest of the accused Bashir Raweh Nouman in late of Muharam month of Hegira year in Syria while he was leaving for a camp of Fatah al-Islam of al-Qaeda organisation for training there and pointed out his being handed over to Yemen after he was arrested in the Syrian city of Hims.
In his reply to the court question he said he received 400 Saudi riyals from a person called Khalil who had asked him to go to Iraq for Jihad and coordination for him with other persons to receive him at airports.
In another case the Specialised First Instance Criminal Court in Sana'a condemned the defendant Tawfiq Abdullah Yahya al-Maswari of highway robbery that resulted in killing and sentenced him to death.