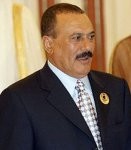 almotamar.net
- President Ali Abdullah Saleh on Wednesday arrived in the Belgian capital Brussels on a state visit to Belgium and the European Union.
During his stay President Saleh is to hold talks with Belgian officials and officials of the European Union to deal with ways of enhancing relations and areas of cooperation between Yemen and the Belgian Kingdom and the European Union in addition to discussion of regional and international issues of common interest.
The Yemeni president has on Wednesday morning left the Spanish capital Madrid wrapping up his visit to the Kingdom of Spain where he had talks with the Spanish King Juan Carlos n the Prime Minister Jose Luis Rodriguez Zapatero as well as a number of Spanish officials.
Earlier today Yemen's Ministers of Foreign Affairs, Health and Population and the Technical and Vocational Education as well as Chairman of Investment Authority have met in Madrid a number of heads of Spanish companies and businessmen and discussed with them opportunities of investment available in Yemen in the fields of oil and minerals, energy, agriculture, industry, fish wealth, tourism an and the Free Zone in Aden.
Head of Investment Authority reviewed the privileges, opportunities and guarantees the investment law in Yemen provides for investors. He has also welcomed Spanish investment in Yemen, pointing out existence of successful experiments of Spanish and European investments in Yemen.
During the meeting there were large discussions by Spanish investors and replies to their questions. Heads of companies have expressed their desire for entering the Yemeni market especially in areas of energy, oil, gas and minerals as well as tourism and fishery.