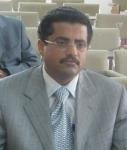 almotamar.net
- Head of the General People's Congress (GPC) branch of Aden Abdulkarim Shaef said Thursday some political forces have lost their role in the political arena because the street does no longer respond to them and due to the mistakes they have made in the past. Those wrongs have inflicted damage on the Yemeni man and they have tried to take advantage of people suffering for political purposes aimed at causing political and economic confusion and consequently impede development.
He added those leadership failed to act outside exploitation of the people's issues and do not possess a national project or address or a national cause with which they can convince the street with it. Sheaf said," They (forces) move without a programme and their leaderships are disunited and contradictory and defeat prevails over them. "
Responding to a question by Al-Masdar newspaper in its issue of last Tuesday regarding submissions of the return to the pre-1990, the GPC leading member said such ideas clearly indicate the state of confusion experienced by those forces and he pointed out their formation of the so-called ' Reconciliation and Forgiveness ' that contradicts their concept. He added those leaderships were trying to remind the people about them at a time that they must steer all efforts to development."
Sheaf stressed the necessity that all political forces have to reach to a unified vision about any problems facing Yemen as the only way to move to the better.