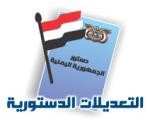 Almotamar.net
- The Yemeni National Alliance of the civil society organisations which comprises of 70 organisations, societies and unions has Sunday announced its full support for the draft constitutional amendments as they meet ambitions of the entire people for the development of democratic life and the institutional structure.
In a message addressed to the President of the Republic, obtained by almotamar.net, the Alliance expressed its happiness over the declaration of the end of the war in Saada governorate. It said this confirms keenness of the President on prevention of Yemeni bloodshed and continuation in building the modern Yemeni state, establishment of security and stability and deepening the approach of dialogue which is a principal principle in the policy of the President. With dialogue the homeland has overcome the most difficult challenges it faced internally and externally.
The National Alliance of the Civil Society Organisations affirmed its going ahead in confronting all challenges facing Yemen and to fight all forms of extremism and terror and abandonment of the culture of hatred as well as deepening the loyalty to the homeland among the youth.