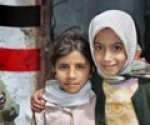 Almotamar.net
- Yemen Minister of Public Health and Population Dr Abdulkarim Yahya Rasie affirmed that the political leadership under President Ali Abdullah Saleh gives interest to the health national strategy for the achievement of goals of the millennium and reaching to reduction of proportion of fatalities of women and children.
In his speech at inauguration of the workshop on announcement of results of the multi-indicator Cluster Survey held Sunday at the ministry the minister said the family health survey carried out in 2003-2004 demonstrates the extent of the efforts being exerted by the ministry for he reduction of the proportion of fatalities of children under 5 from 102 in a thousand to 78 and infants fatalities from 86 to 69 in a thousand.
The ministry was able to raise the proportion of women using family planning means to 27%, clarifying that the proportion of covering polio immunization has risen to 87% this year.
The minister said those efforts aim at reaching development goals by reducing two thirds of children under 5 fatalities by the year 2015 and improvement of mothers' health and securing environment sustainability and providing good drinking waters.
Dr Rasie also said the health ministry plans in the next months to implement the demographic health survey, calling on all donors to participate in and support the survey.
The minister thanked the UNICEF support for the project and the Arab project for family health at the Children University.