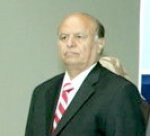 Almotamar.net, SABA
- Vice President Abdu Rabu Mansur Hadi emphasized the importance of the National Campaign to Eradicate Polio launched here on Monday as it is the last one before announcing Yemen free of Polio in March 2009.
During the launching, VP, Minister of Public Health and Population and representatives of the childhood-interested international organizations gave immunization doses for a number of children.
In a statement to press outlets, Hadi called governors, local authorities' officials and citizens upon cooperating with immunization teams to carry out the campaign.
Minister of Public Health Abdul Karim Rase'a told Saba that campaign comes under the n national strategy to announce Yemen free of Polio, noting that no cases of polio virus have been appeared since February 2006.
He said that three-day campaign throughout the country's governorates targets 4.2 million under-five year old kids from house to house.
He said that his ministry, in cooperation with World Health Organization (WHO) and UNICEF, has provided every thing the campaign needs including immunization teams, vaccines and Vitamin A.
The WHO representative Dr. Gholam Rabani and UN Resident Coordinator in Yemen Pratibha Mehta lauded the arrangement of the campaign as well as the Health Ministry's efforts to eradicate polio virus from Yemen.
Saba