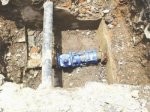 Almotamar.net
- A recent parliamentary report mentioned about a recession in services of sewage services by 53% and that has caused the emergence of a problem water pits of which the report said it is threatening the human, the environment and the groundwater basin.
A report by the parliamentary waters committee obtained by almotamar.net pointed out the sewage suffering network of the problem torrents that are not contained in designs of the sewage system, let alone flaws in the direct connection from the network and many factories', institutions, hospitals, oil and car batteries shops and photography studios non-committing to safe riddance of their wastes before connection.
Yemen began the project of sewage in the capital Sana'a 8 years before with the aim of providing sewage services in the areas that are most affected by the phenomenon of water pits flooding and to protect the strategic reservoir of drinking underground water in Sana'a water basin.