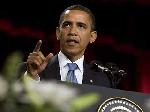 Almotamar.net, Reuters
- CAIRO, June 4 (Reuters) - U.S. President Barack Obama told the world's Muslims on Thursday that violent extremists had exploited tensions between Muslims and the West, and that Islam was not part of the problem but part of promoting peace.
The speech, delivered from Cairo University in the centre of Egypt's sprawling capital, is aimed at healing a rift between Washington and the Islamic world.
"Violent extremists have exploited these tensions in a small but potent minority of Muslims," Obama said in remarks prepared for delivery, saying the United States and Islam "need not be in competition."
"Islam is not part of the problem in combating violent extremism -- it is an important part of promoting peace," he said.
Obama said he would pursue a two-state solution as the only way to end the Palestinian-Israeli conflict, addressing an issue prioritised by many in the Muslim world.
Many see Washington as one-sided in its backing of Israel.
"The only resolution is for the aspirations of both sides to be met through two states, where Israelis and Palestinians each live in peace and security," Obama said. "That is why I intend to personally pursue this outcome with all the patience that the task requires."
He also said any nation, including Iran, had the right to peaceful nuclear power "if it complies with its responsibilities under the nuclear Non-Proliferation Treaty".
Washington accuses Iran of seeking to build nuclear weapons, a charge Tehran denies, insisting it only wants to master the technology for atomic power plants.
"But it is clear to all concerned that when it comes to nuclear weapons, we have reached a decisive point. This is not simply about America's interests. It is about preventing a nuclear arms race in the Middle East that could lead this region and the world down a hugely dangerous path," he said.
Obama said the United States did not want to keep its troops in Afghanistan and did not seek military bases there.
"Make no mistake: we do not want to keep our troops in Afghanistan. We seek no military bases there," Obama said in a speech prepared for delivery.
"We would gladly bring every single one of our troops home if we could be confident that there were not violent extremists in Afghanistan and Pakistan determined to kill as many Americans as they possibly can. But that is not yet the case," Obama said.
Obama said that Iraq was "a war of choice", and that it reminded the United States of the need to use diplomacy and consultation to resolve problems.